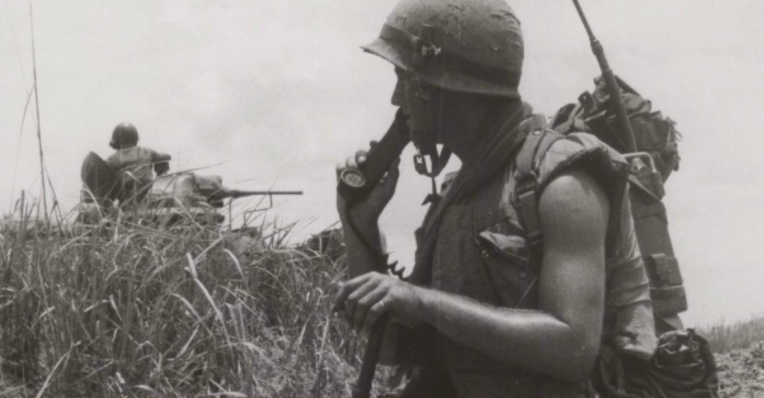 Konrad receiving comms during a combat operation while serving by the Outercanals, his gear appears stripped down gear to accomadate the hot and humid weather in the region.
In the background to his left, appears a tank crewman and his armor dug in with their hull down.
An anecdote states that the photo taken was by Sasha Nikolaev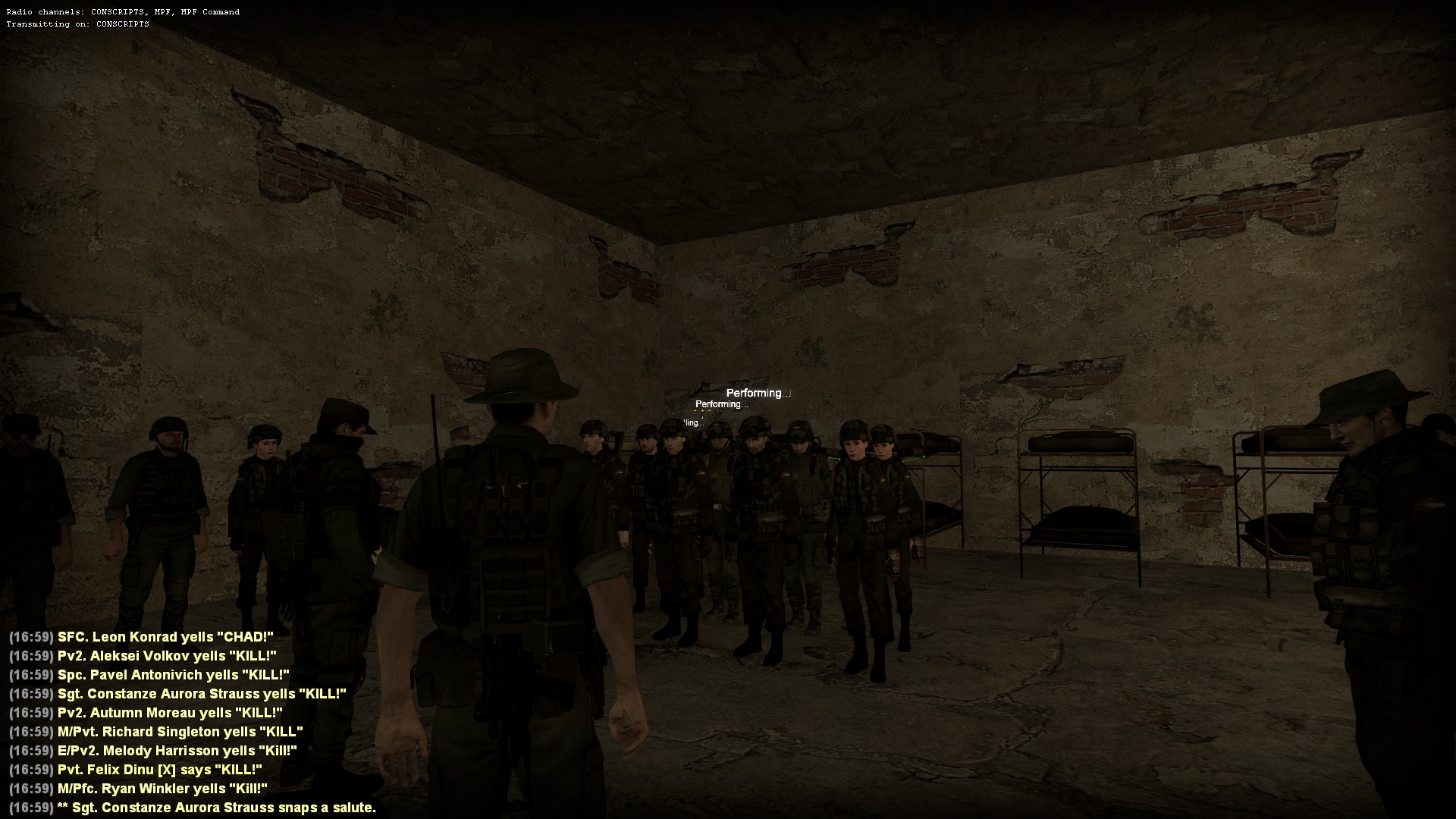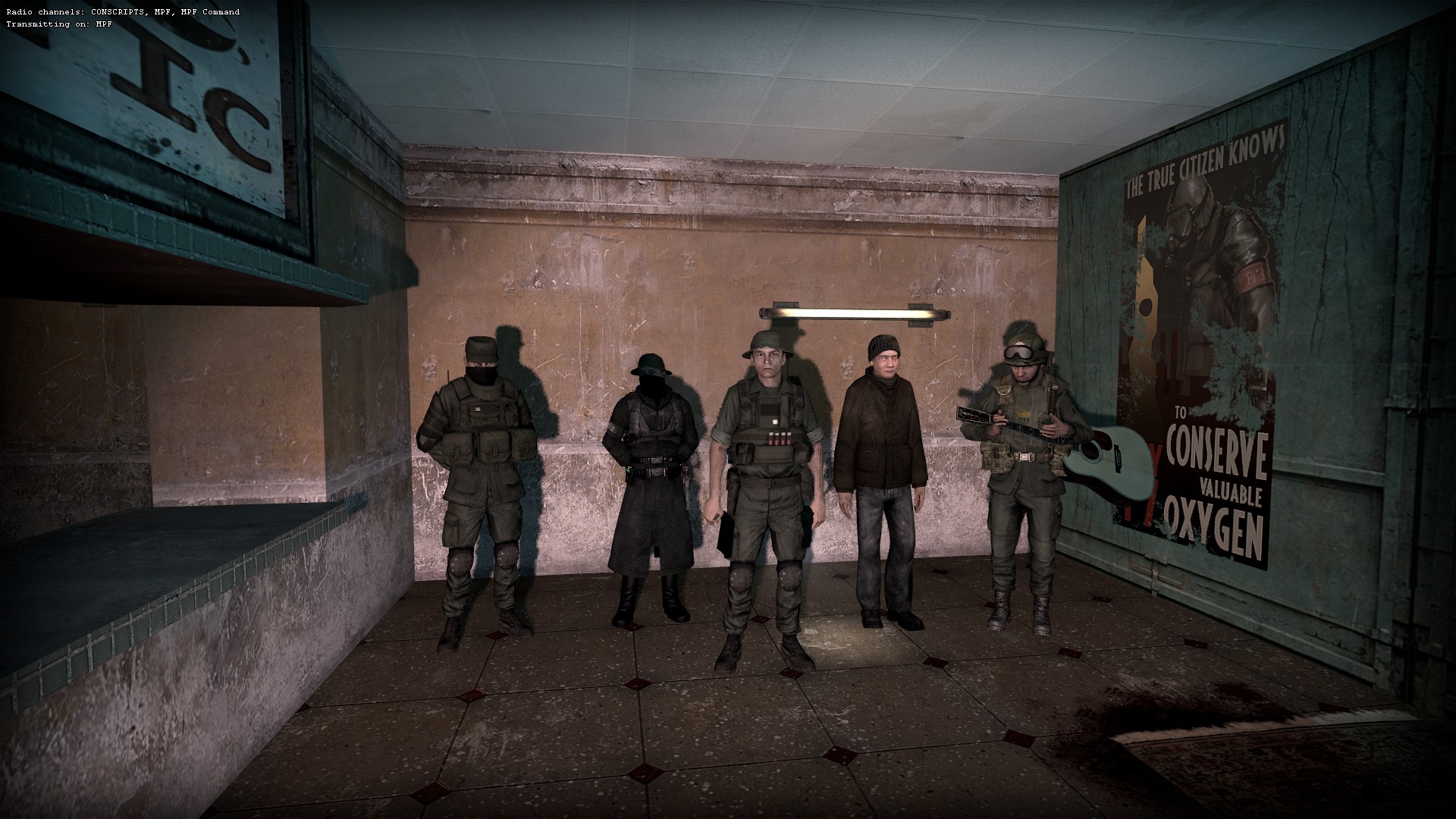 ​
Name: Leon Konrad
Age:29, DOB: 12/26/1990
Height: 6'1
CID: #00089
Conscript Casualties Witnessed: 92
MPF/OTA Casualties Witnessed: 2
Denizens/Citizens Killed: 54
Denizens/Citizens Detained: 63
Firemissions called in: 25
Supplies called in: 7
Mission Deployments Attended: 35
Bootcamps Attended: 8
RnR's Attended: 3
Patrols lead: 98
Stationed at:
FOB Sidewinder(6/29/18?)
FOB Lancaster(8/12/18)
FOB Alexander(9/11/18)
COP C:i17(10/7/18)
FOB Inner Haven(2/8/19)
Deployments
:
Operation 'Sandstorm'(7/12/18) - RTO
Operation Snow Devil(8/7/18) - Fireteam Leader / RTO(low casualties)
Operation 'Deep Rock'(8/11/18) - Assistant-Platoon Leader / RTO(wounded, mometarily captured, extreme casualties)
Operation 'Quiet City'(8/20/18) - Platoon Leader(moderate casualties)
Operation 'Fallen Grace'(8/21/18) - Squad Leader
Operation 'Fallen Hope'

(8/22/18) - Platoon Leader(wounded, heavy casualties)
The Ambush of The Cold Ridge(8/24/18) - Platoon Leader(wounded, treated by Garland. momentarily captured & wounded again, treated by Deckards, heavy casualties. wounded again.)
Operation Tundra Assault(8/27/18) - Platoon Leader(flawlessly completed)


Operation 'Metro' (9/9/18) - Squad Leader
Operation Genesis(10/20/18) - Platoon Leader(wounded, treated by Garland, low casualties)
Operation Knock Knock(9/26/18) - Platoon Leader
Operation True Citizen(10/2/18) - Platoon Leader(wounded)
Operation 'Cell Signal'(11/4/18) - Platoon Leader
Recapturing FOB Alexander(11/10/18) - Platoon Leader
Operation 'White Mist'(11/17/18) - Platoon Leader(moderate casualties)
The Attack at Leamsford(12/1/18) - Civ/Platoon Leader(wounded, treated by 141)
Operation London Bridge(12/2/18) - Squad Leader/RTO(wounded, treated by Garland, heavy casualties)
The Fall of City 17(1/28/19) - Squad Leader(moderate casualties)
Operation Muddy Foot(2/4/19) - Squad Leader(low casualties)
Operation Missing Hunt(2/6/19) - Squad Leader/RTO(moderate casualties)
Operation White Rabbit(2/8/19) - Platoon Leader(wounded, treated by Pravus)
Operation Green Arrow(2/10/19) - Squad Leader/RTO
Operation Rolling Thunder(2/17/19) - Squad Leader(low casualties)
Operation Bishop(2/22/19) - Platoon Leader
Operation Sudden Fall(2/24/19) - MOBCOMM Tactical Advisor
Operation Fat Man(2/25/19) - Rear Echelon
Operation Broken Fortress I(3/2/19) - MOBCOMM Tactical Advisor
Operation Mystery Acquisition(3/15/19) - Platoon Leader
Operation Silver Bird(3/16/19) - Platoon Leader(moderate casualties, momentarily captured)
"What a ride. I know sketchy intelligence is always a bad sign, but this was terrible. O'Brien with her broken wrist was an excellent runner and with her help we pulled the bulk out, I don't know what we would've done when we got cornered if I didn't have the M1014. I shouldn't have been able to kill it, but I did. Still, Percy did a great job with half of his fireteam and everyone save for the functionary 998 made it out alive. Too many close calls, too many injured, we accomplished our mission at a heavy cost, but atleast everyone made it out, just not in one piece. It's by a little bit of a miracle and a lot of tact that we made it out today. Either that, or someone was looking out for us. If I was religious, I'd say someone WAS looking out for Raikov and myself. Regardless, I'm proud of my men."
Accomplishments
:
Good Conduct Medal(6x)
Combat Action Ribbon w/ 13x stars
Sheperd's Star
Distinguished Service Cross
Cross of the Survivor
Purple Heart(8x)
City 24 Commendation Ribbon
City 8 Service Medal
Defence Against Xen Medal
Pvt-Pv2(SSgt. Black)
Pv2-Pfc(SSgt. Black)
Pfc-LCpl(Cpt. Hayes)
LCpl-Cpl(Lt. Disney)
Cpl-Sgt(Lt. Disney)
Sgt-SSgt(Lt. Disney)
SSgt-1SG(Lt. Disney)
1SG-2Lt(LtCol. Hayes)
2Lt-1Lt(Cpt. Disney)


1Lt-Cpt(LtCol. Hayes)


SFC(1Lt. Leclerc)
SFC-1Lt(Cpt. Disney)
1Lt(Cpt. Davis)
1Lt-Cpt.(Maj. Pope/Maj. Davis)
Due to Konrad's excellence during bootcamp and prior service in the military(0861 USMC, 1st LAR Bn/1), he was able to proceed onto specialized training of several schools involving MASOC.
This allowed him to serve with the 24th Conscript Battalion, like many Conscript units, the 24th is missing on-field frontline communications and specialized units. This can be seen from lack of units such as snipers, specops, mechanized infantry, etc. Therefore, Konrad was transferred over Jul 26th, 2018 into a spotter/RTO role coming from the 3rd Conscript Battalion serving 32 miles off the coast of City 21. The contrast is huge, as the 3rd was far more luxarious and peaceful in comparison to the casualty-ridden 24th. Despite being assigned to a Scout-Sniper platoon while serving in Golf Company at the 3rd, Konrad never received official sniper training and therefore is not certified enough to operate sniper rifles. Nor would he like to, because of their inefficiency in taking down hordes of antlions seen at the 24th coupled with the immense weight of them. Konrad is authorized to have direct comms to command(something his radio allows, as well) if nessescary, and has juristiction to call in support, and fire support. Even without his radio, his training has allowed him to understand hand signals and morse codes, along with survival techniques in many climates and conditions.
Weapons
:
SAI GRY M4 - A modernized M4A1 with a jailbreak muzzle break among a plethora of other attachments, such as a free floating handguard with heavy barrel. An M68 on a riser mount is utilized to help see over the large muzzle flash which is produced by the break. An underslung M203 assists Konrad with taking down heavier/defilade targets with 40mm rounds. Konrad enjoys this weapon a lot, it's a familiar platform with an extended magazine; what's not to like?
FN 5.7 - A modern handgun, Konrad prefers this over his standard-issue King Cobra revolver which he believes is too bulky and too heavy outside of ceremonial-usage. It has an exceptional magazine capacity coupled with low recoil and high armor penetration. An extremely reliable sidearm.
Knife - Standard knife, so far he's only used it for cutting through fabrics to tend to wounded.
PRC-177G Radio - Most likely the best weapon he's got, it packs the most firepower and can call in artillery, air, and naval support.

MK3A2 - If it's gonna be a short operation he will bring more firepower(usually clipped onto his rig, or in a hip pouch). Konrad usually uses these grenades offensively cause they don't pack too much fragmentation.
King Cobra - A medium frame .357 revolver. Not used too often, too heavy too bulky and lacks capacity. Rarely used in combat by Konrad, but carried around ceremonially.

M-83 Smoke Grenade - Self explanatory, useful for screening assaults or providing cover for his troops.
M-18 Signal Grenade - Self explanatory, useful for offensive strikes and also marking any LZs.
Flare Pistol - Some old flare pistol provided on a chest holster to begin Operation White Rabbit's assault. It's only been used once, and that was to begin the assault.
Worn Equipment
:
Boonie hat
which he wishes he wasn't using due to its lack of protection and Headset connected to:
PRC-177G Radio on back, below the radio is a butt pouch containing rations (2 mres), and an BB-2557/U Li-Ion Rechargeable Battery
M-69 Fragmentation Vest/Ceramic Inserts that's worn underneath the following:
Shoulder Pouch - MIL-PRF-10436N Compass. Clipped on are 2x M18 Signal Smoke Grenades(1 Violet 1 Red) 2x25sec 'SΛLUS INC' Signal Flares
Plate Carrier
- on his plate carrier he carries 8x30rnd 5.56x45mm STANAG magazines, and a few flares and zipties on it. He uses steel plates, quite painful but they can take multiple hits.
Two hip pouches attached to the plate carrier contain a box of spare batteries for his GLTD, along with an extra signal grenade.
A Mapcase is on his right leg, containing 1-4 maps, one of the base, and two or more of the AO(s)
A GLTD encapsulated inside of a protective case is attached to his left leg.
Gloves he doesn't use gloves in the current AO.
Canteen pouch is worn for his rear right pouch, he wishes that he had a hydration bladder, but unfortunately he has no room. He sometimes carries a second canteen pouch on the left side.
All of Konrads gear and equipment are designed to be as lightweight as possible to compensate for the heavy RTO equipment.
He keeps spare room in his butt pouch and hip pouch for whatever else he may need to grab.(in this case, he carries a flare gun and several flares often serving with the 24th, and occasionally grenades.) He does not carry a backpack.
He only eats his on-person rations during emergencies when he cannot get resupplied. He prefers to eat at the mess and does so frequently.
Konrad rarely brings his cigarettes with him anymore, as he vowed to a friend to stop smoking.
Holds an very feint East-European Accent, as spending time around fluent English-speaking conscripts has refined his accent.
He speaks with a concise demeanor, and is overall friendly and accomadating, but more often than not it's professional talk.
Despite speaking taciturn, quickly and with few words, he consciously makes sure to check on the condition and wellbeing of his men.
Due to the UU targeting military installations first, Konrad was one of the first men to be conscripted, which is why his CID is such a low number at 00089.
Although Konrad is a young, strong spirited conscript who has risen through the ranks as a natural leader. He holds serious concerns about the cause which places immense harm on his men and himself, but believes it's not his place as a soldier to question the cause which he fights for. Konrad has been through a lot, and so have the men who've been fighting alongside him, but he hasn't forgotten those who have fallen. It's tough to tell whether or not it's taken a toll on the Lieutenant as he intentionally doesn't speak about it openly.
Konrad in the past has always been a frontline leader. He has no desire to rise from operational levels to supervisory levels, however, the position had come to him multiple times, and he finds himself there once more.
Relations(

Conscripts

)-

Hated

|

Disliked

|Neu

tral

|

Acquaintance/

Trusted

|

Friend

|

Interest

|

Close

|

ACR
LCpl.
'Russ'
Russell
"I still remember this guy from the time I had him sent to DELTA. He remembers me, too. But based off of the bootcamp and Operation White Rabbit along with our interactions since then, both of us have

improved

in a great way. He

followed me into combat

with no complaints and was always

supporting me on point

. In our words, he's one of the

best grunts

we have, and I'm one of the best leaders we've got. He's improved SO damn much. I honestly think he's

earned his respect

the

fastest

out of anyone here. Surprisingly, very glad to have him with us."
"Funny sense of humor, what a solid grunt."
"Looking good, devil dog. Keep up the good work."
Pfc.
Kur
owski
"Kurowski is the one and only Polish-origin grunt here in the 24th. He's come a long way and has been with us since FOB Alexander. Although he was always a
solid grunt
, I've seen him
slack off
here and there when it came down to maintaining categories such as his shotgun or his bunk. It's for this reason that Kurowski isn't the first option for specialists to train recruits. While I'm
glad
to have him in my platoon, our interactions have been limited - but he
gets along well
with the men. Bottom line, I
know
I can trust him with my life.
"
"I read the report after I was drugged. My attached rear-echelon conscript Pfc. Jakub Kurowski tried his best to protect me after I passed out. Apparently he had an altercation during this time with another drugged conscript and some drugged coppers. Thankfully, Kurowski was unscathed, I respect him for his effort, but I always knew I could trust the man."
Cpl. '
Survivor
'
Whi
te
"Lance Corporal White is the Pfc whose life I saved about a year back back on

Operation Cold Ridge

. I still remember him. Our interactions have been rather limited, so what I can say is that I hope he's still the same White I remember.

A competent grunt who has the potential of tact.

Outside of that, he's been very handy on the base as a general training specialist. He's one of few who are qualified to instruct and train conscripts on crew-served weapons. Some of the men dislike him, but I haven't made up my mind on that yet. In any case, it's good to have an additional hand on helping train the new greens, him being a veteran is just a plus."
"Much appreciated, White."
"Activity is concerning."
Cpl.
Autumn
M
ore
au
"Moreau missed out on the past four operations, and as a result of the re-evaluation was placed as a Corporal. I still have the little journal excerpt she gave me, good times. When she finally shipped in she performed as the French sniper usually did, but something else was there."
"..Moreau and I have been getting a little too friendly recently. While I can't deny to my honest self that we are friends, I don't treat her like I treat other conscripts and it concerns me. Still, I believe the reason behind it is the amount of time we've spent together as a scout-sniper team. She has my complete trust, it's just that I should watch my own step, for both of our sakes. Here's hoping she will do the same, I can't keep this up for long."
"Alright, I guess I'm just fighting a losing battle against you then. Don't say I didn't try. But if my professionalism is gonna drop for you, you better bet this won't be a tie."
"Thank you for doing that, you really made my day better, Autumn."
"Activity coupled with performance is beginning to concern me."
AXEO. '
Stub
'
Klein
"Klein? He's a great friend of mine. The tactics and strategies which he uses are a bit unorthodox and it causes me to question his mental stability time to time. His whole body is essentially bionics, the guy has taken himself apart and put himself back together more times than he'd like to admit I bet. I don't really care much for it though, as he's still a fantastic engineer, and a great friend. I recall at one point we had a brief tense moment at C17 where we faced off against one another, but being the Canadian man he was he backed down. I still respect him for that."
T/3.
G
arlan
d
"Garland is literally Garland. Tough to put it into words within 5 minutes. She's the longest serving conscript I know, because she was in and saving lives before I ever shipped in. Due to that, she's the longest serving HELIX too. Although my initial interactions with her pointed at her being a crazy woman, but I've come to respect her line of work. She's operated on my men and I several times, a reliable HELIX for sure(even if her procedures are questionable at times). Her personality isn't too bad, either. During combat, she's a little overly aggressive, and during peacetime, she actually has a rather soft side she opens up with. A stranger on the outside might believe she's a cold, heartless person. The truth is rather she just

protects her comrades

like family. I

respect

her for this, and I

trust her with my life

and the life of my men. To this day the medic still hasn't given me a reason to seriously doubt her, my faith in her is strong as ever."
"Garland seems a little unfocused recently, but given her reasons I can understand. She's been through worse, this should be a walk in the park for her."
"I really do not know what to tell you anymore, I don't want to talk to you. When I put so much trust and faith in a person just see it crumble, it hurts."
Pfc.
Pavel
Anton
ivich
"Ever since Antonivich has left the city, he has proven himself yet again to be an

exemplary conscript

. He was the ONLY conscript during bootcamp who could

follow each and every order

. During Operation White Rabbit he

followed me

through the thick of it, and even when things got desperate he

held his ground

. I can see the trust he puts in his comrades, it's very good. Outside of that I haven't had the chance to talk with him much, but I expect he's same old

Pavel

."
Cpl.
F
inch
"
Finch is a relatively new transfer into the 24th. She served in some canadian artillery regiment or something along those lines. Already there are several things that stand out. She uses an MP7 instead of a rifle, she designed the new medals, volunteered for multiple roles and she's surprisingly thoughtful. For example, today when I was wounded she came over and brought a cake for me alongside Moreau, Stroystka and Stones. It's pretty uncommon for new greenies to have so much depth to them, and rise through the ranks quickly. Well, so far she's worked for everything; good for her. I have great respect for her work ethic, although you can tell she doesn't like doing work such as moving heavy boxes, she'll still comply and give her full. Albeit from her funny facial expressions you can tell she doesn't like it. It's easy to overlook such a subtle detail, but it really brings out the humanity in Finch. Overall, I'm glad to have her with us.
"
"Finch! Truly an up and coming Conscript. Ever since she earned that full chevron she hasn't gone back, only forwards. Lance Corporal and now Corporal, she's doing great work and it makes me proud. I haven't had the personal chance to witness her in combat as our squads seem to be split up, or our mission schedules are split up. Regardless, she puts in a ton of effort both on base and on paperwork, and the conscripts which she leads give her praise. An exemplary conscript and a fantastic NCO. You'd have a hard time finding a Conscript with a better record in such a short time. To be honest, she might make a good XO in the future, it's something I've yet to seriously consider but it's definitely on the table, we'll just have to see."
Pv2.
Stroyst
ka
"Stroystka is a nice woman, she strives to learn and tries her best. It's refreshing to see a conscript, especially an E-1, who enjoys her 'hobby' of cooking. She also brought the cake for their whole ad-hoc injury party, that was very wholesome of her. She's friendly with the conscripts and always has something to talk about, I enjoy spending downtimes with her. Although she was an 01 in C17-HELIX, and spent plenty of time in the CMU, she actually has never received training. I was baffled by this when she first told me. I still think she's got the potential and will to become a true HELIX if she wanted to. She's still an E-1, primarily because she hasn't deployed on many missions and rated just at the standards on patrols, despite this I surprisingly don't give two craps about her combat ability as I already appreciate her as is. Meaning her non-combat abilities helping with HELIX, conversing, cooking and whatever else. I just find it strange that I've spent a significant amount of time with her yet I can't think of what to say. Hell, let's just leave it at Stroystka is a wholesome woman, best of luck to you on your endeavor."
"Stroystka is pretty much the same person. Although her discipline and attitude with certain NCOs and JURY has been particularly poor recently. Haven't had the chance to speak with her a whole lot, but I know we're on friendly terms. She gets along with everyone nicely, save for a handful. Strange to compare her to say.. someone like Duke, but I do feel she's another of the "Earn my respect" types. To be honest, she hasn't given me any crap, and her discipline issues are not severe. I'll see if I can give her a talk when we have time, could do her some good. Oh well, I'm honestly not too worried about her, just hope that she can shape up a bit so I can stop having to read reports and push papers regarding her name. I do wish she was around a little more often, I placed quite a bit of my time and effort in helping her shape up as a chow cook and I'd hate to see her waste that potential."
DvL.
Ri
sterwa
ld
"
Risterwald is still (mostly)the same Risterwald. I recall when the other grunts and I had a massive

disliking to JURY

as a whole, and Risterwald IS the embodiment of JURY. Since then, after coast and especially since C17, he's

changed

a substantial amount in terms of his

social-nature

. I've come to

respect

his line of work, and give it some consideration. Risterwald has definitely become quite a

friendly person

in comparison to prior times,

nice

to have him around. I can

rely

on him to get his tasks done, and he can rely on me to get my tasks done. Still - don't get me wrong, Risterwald is a great

friend

- but I

can't fully trust

a JURY officer, it's in my nature as a grunt. He does his work, I do my work.
"
Sgt.
Volk
ov
"

Team leader

for

Bravo

during Op. White Rabbit. He went the wrong way as soon as he touched down and

seemed to hold his flank

outside of not capturing his trenchline. I could tell because we were

constantly being pelted from his flank

. He pushed through and we linked up eventually. He's a

fantastic team leader

regardless though,

his fireteam

had

good cohesion

. I still remember Volkov from C:i17. A fresh recruit back then and past his reprimands of that time he's

improved

to become quite a decent NCO. He

tries his best

and

puts in a lot of effort

, I

appreciate

that."
SSgt. '
P
ugno
'
Giga
nte
"Pugno is a great friend from the city, he helped me with a certain important task. Since then, it was a surprise for me to see him enlist as a drill sergeant for the conscripts. I suppose I should've seen it coming from KonBurger. Our interactions are different, as now instead of friend-to-friend it's superior-to-subordinate, ontop of that, we are both busy conscripts with responsibilities. He needs to train the men and I need to lead them. Even so, Pugno isn't someone you converse with about life. He's a reliable guy that I can trust, I just don't need to; think that's a good thing.. never know with Italians."
"Not bad, Staff Sergeant. You're doing great work."
LCpl.
Perc
y
"Percy is a transfer from the uh.. 69th Conscript Battalion, if I recall correctly. He's got a thick South African accent on him, and he always uses it. He transferred in originally as a PFC but already has caught my eye in several operations. It's for this reason he earned Specialist and then Lance Corporal in a relatively quick succession. He's yet to let me down, he got along good with Radec, they were like brothers but.. guess that time has changed from the reports I've read. Regardless, he's a welcome addition to my company, and he'll do a great job in the platoon command structure. Conversely as compared with most of the conscripts, I see this guy a lot in combat, and very little while on base. This is a positive thing, as strange as it is when you look at the whole company. A pretty solid grunt overall, and so far a good NCO."
Pvt. 'Du
ke
' Cummin
s
[
X
]
"Duke is a wild card. While he's not a braindead steroid infused hunk of meat to draw fire, he isn't the brightest in the company either. He's had several infractions since shipping in, all disciplinary issues, however they are minor in scale. I recall them having a specific altercation with OfC 661, but I digress. Cummins.. he's alright. He's one of the "to get my respect you gotta earn it" kinda guys, which doesn't really go well with our standards and discipline here in the conscripts, but I still will always respect a grunt for their sheer combat potential. Besides, he only gives JURY shit. Maybe one of these deployments he'll finally be seen without a blackmark solely due to him being busy fighting."
Pvt.
Rom
eo
"Romeo is quite an active HCU. I always see Romeo but I rarely see Juliet. Time to time I'll speak with Romeo, but we generally don't have enough time to get anything said. He's got an interesting backstory but the real star of Romeo is his combat ability and discipline. He's a solid grunt, never failing to adhere and exceed the standards of discipline."
T/2.
O'Brie
n
"O'Brien, a new GRID transfer. She

performed very well

during the bootcamp, however she was transferred out of my team during the operation. Can't say much, but she's definitely

one

of the

better GRID units

, and I'm mostly sure that I can rely on her.. as long as she has ammo. She kept asking me for ammunition both during the operation and during bootcamp, jeez."
Pfc.
Stone
s
"Stones is a nice guy. When I first met him as a recruit, I thought he was messing with me with his strange backstory, though I think that just comes with his age. He seems to be pretty easy going and for that reason he sometimes makes me worry that his standards will slip. Though, I'm sure that if they ever did, just a couple words and he'd be a fast learner. He's not your generic conscript grunt, however, that doesn't mean he's bad. Some of his strange non-standard tasks include being a part time architect for the FOB, yet he still tells me about how he isn't interested in GRID, I can respect that. Haven't had to see him in combat a whole lot, but I'm sure that time will come. Well, although our interactions are only moderate, he's definitely a welcome addition to this company. Glad to have him with us."
(KIA)T/2.
Reno
Nelson
"Nelson... I've known the guy for awhile now. We used to joke with him back on the coast, and recently he was telling me stories of how he grew up in California, waves and all. It was a nice morale booster for everyone whenever at the end of an operation he'd comment on the waves there to me, funny stuff. He asked me for help regarding his past, I launched my investigation and told him I'd get back to him. I..."
"I saw him take the hit during the Operation from the control room, I just thought I'd visit him when he came back in the medbay but... no."
"He's dead. I would be lying if I said this didn't hurt my morale. God damn it, Nelson didn't deserve this. I'll see you when my time comes, brother. Til' then, watch my six."
FWO. 'Mike 1-1'
Smith
"He's one of the

pilots

who fly. During Operation White Rabbit he deployed us, and prior to that he

medevaced

my men in the ruined city. Simple guy with a simple face, but if you ask anyone here, we love his line of work."
Cpt.
Davis
"My CO, his face reminds me of a certain bad

memory

involving C01. Regardless, although I find him

unprofessional

at times, atleast based off of my observations involving him and the civillian populace. On the more important side of things, during combat he is rather

competent

. I just haven't interacted with him enough to know more."
Maj.
Pop
e
"The new Battalion XO to replace Maj. Hayes who was taken down during the C01 friendly fire incident. I haven't underestimated him yet, he seems smarter than his echelon for sure. Cpl. Kramer is an absolute shit head pencil pusher who has, and should never see a day on the frontline. Damn POG, probably got his E-4 chevrons from filing papers for intelligence or administration."
EpU.
Kab
umba
"A JURY unit who hails from the continent of Africa. We speak infrequently to say the least, he's a respectful man. Risterwald seems to place much trust into him, for a good reason I'd imagine, so despite Kabumba being a JURY, he can definitely get the job done."
Pvt.
V
asilie
v
"A new conscript, I briefly ran him through an AT familiarization course. He was apparently one of the drugged conscripts, during this time he attacked me with a microwave, yes a microwave... and shot a warhead at our electricity GRID. ..What the hell?"
Pv2.
B
erring
s
"
A conscript who I believe may mean well, albeit he is lacking and cannot perform in many areas. For starters, he's

unresponsible

. From the reports I was receiving he

faults in his medical work

and far

more significant faults in his discipline

which I could personally attest to. The problem with the former was there were no full reports given, however the concensus was quite clear: he was

unfit for duty

. I decided to give him a chance as I try to give my conscripts as much

faith

as possible. Berrings, however, crossed the line when he began

pulling other conscripts down

alongside him. Since that time, he messed up in bootcamp which he was reprimanded for again, some NCOs were severely beating him and I

called that off

, to be honest I'm not sure who called that in the first place, strange. Not sure what happened to him after that, haven't seen him. If he's still around I'll see if I can help him square himself away, but if it's a lost cause then it is what it is.
"
Relations(

Union

)-

Hated

|

Disliked

|Neu

tral

|

Acquaintance/

Trusted

|

Friend

|

Interest

|

Close

|
Sarah 15
4
Jacobs
"My friend from C17 had these digits, think her name was Eliza. She was different from this 154 though.. makes me wonder what happened to the other. My interactions with Jacobs is quite limited, I've only seen her at the sims once, and at Garland's campfire once more. I did note that she held her posture very well for an EF unit. She's friendly and nice to speak with, but like I said, our interactions are limited. Though on downtimes, I wouldn't mind speaking to her more if she was around more often."
"I went 10-8 today to find 154 wounded in a HELIX bed, only that at first there were no clear wounds. Still not the best way to start off the day, I feel very sympathetic towards her story and the reason why she was there. I wish I could help.. but I can't. Sorry, Jacobs.. best of luck."
"...Every time I spend time with 154, danger finds its way to us. Somewhat funny. It's getting ridiculous, but I'm no superstitious man. Despite the wounds inflicted, from banter(and its many types..) to indepth conversations I enjoy spending my time with Sarah. She seems a little reluctant to speak openly about certain topics(rightfully so) to me in public, usually proceeding to whispering in my ear. Whenever she does, I can definitely find her personality quite a bit interesting. Still, the chances of us speaking privately are few and far between, especially with our schedules. Damn."
"Even now, I'm still in awe about what happened. As always, no regrets, even if it has been a bit of a long-time coming, I'm glad we both took this path, together. I wouldn't want it any other way."
"She's so magical, I feel calm, emotional and relaxed around her. The moments which we steal from the world just for ourselves, the moments which we spend together, each and every one of them are so incredibly wholesome. Each time we gaze into each others eyes, everytime our lips touch, every embrace when our bodies hold themselves together, I feel the love resonating out of us. The smallest remarks, the minutest expressions, they make fill me with so much indescribable emotion, yet they complete me. This.. this is true love. There's not a single doubt about it in my mind, Sarah, I love you."
4
17
Giorgadze
"417 is a nice reliable EF unit. He jokes around and has a nice sense of humor. When we have ample time, he has an interesting background, being an ex-PMC coming out of Georgia and all. 444 told me specifically that he wanted 417 to take over when he was bumped up. Clearly 417 has something going for him, I have taken note of this too, but I can't place my finger on just what it is. He should be able to lead his men just fine though, I know he can."
36
1
"361.. initially 361 seemed to have an overtly negative ego towards conscripts in particular. I didn't give two shits until he started insulting Garland. Even so I kept it to myself as we're in a combat AO. Despite such negative first impressions, I've kept an open mind. Since then, 361 has continued to be a rather silent unit who has some clear gripes about conscripts.. well I'm not sure if it's conscripts. He might just be always in a negative mood. As long as he keeps it to himself, then that's no issue. I took him on a patrol recently, we pushed to midtown with a skeleton recon team and got surrounded on all sides. I was holding out on a rooftop when 361 joined me. Together, we held the town against attacks from all sides(literally), despite being outnumbered and outgunned. He earned my respect from that. I recently heard he was wounded, hope the guy's ok. Was he a dick? Yes. Do I hold a grudge against him for it? No. Is he reliable in combat? Yes. That's good enough for me. Get well, buddy.
"
"361 continues to perform consistently in combat, he still bickers here and there; I don't care about that as much."
"I put in a good word to get this unit promoted, I thought he would eventually be a decent leader or take care of his subordinates. But he seems to have 180'd from the track I thought he was taking, I might've judged him improperly. Instead of spending time with his subordinates he just spends time being a temper-filled child who's pissy at the world cooped up in the racks or the medbay, and the behavior which Cpl Kobayashi reported was unacceptable. She did mention him spending time with Garland, I wonder if that is the source of his behavioral change. I digress, I hope he does not disappoint me."
OfC '
661
'
Lee
"Lee is a good guy. I did warn him when he first shipped in, or rather transfered from the 14th Conscript Battalion, that JURY-Grunt relationships are always a bit sketchy. He seems to do things by the book most of the time. I'm glad he has the initiative to enforce the important matters and let the less-important ones slide. Some of the men make fun of him, but I doubt that 661 will take it to heart. Surprisingly, I actually enjoy the OfC being around. He seems to be one of the most active JURY members. With his tact, he solves more problems than he creates. Smart guy, just don't put your nose in my business.."
450
"450 also known as the conscript who transferred to MPF. If I recall correctly, he originally shipped in with Antonivich on SIDEWINDER. Nevermind that, 450 has proven to be an active EF unit. I haven't interacted with him a whole lot(if at all) during combat scenarios, must just be the luck. Perhaps one of these operations I'll be able to see him in action. Recently I saw him punch Risterwald's junk, still not sure what to think of that. Compared to the city, I'd say we're not on bad terms. He definitely stands out to people, just not in a good way, the general concensus is that he's extremely unfocused on almost everything. Our interactions are limited."
OTA
72
8
"Functionary 728 is a first generation transhuman. Because of this, he's actually quite smart. Out of all my interactions with OTA, none have been as unique as 728. He, surprisingly, has got quite the personality. I put give OTA in general their respect for being efficient, thoughtless combat machines, but 728 almost reminds me of a conscript grunt. Interesting."
Relations(

Denizens

)-

Hated

|

Disliked

|Neu

tral

|

Acquaintance/

Trusted

|

Friend

|

Interest

|

Close

|
'Cube'
"Cube? Who the hell is that?"
Relations(Factions)-

Junk

|

Disliked

|Neutral|

Liked

|

Trusted

|

Close

|
41st Combat Aviation Rotary Airwing
"They haven't let me down yet, and have proven very useful in evacuating my casualties along with transport and combat recon. Hell, they've got as many balls as we do for flying into hot LZs like that."
C24 JAVELIN
"Javelin huh? At first they were just a bunch of scum bags. I purposely screwed with them to take all their high tech city gear and re-issue it to my conscripts, our supply situation is FAR worse than theirs. I had trouble trusting them, and took many precautions. Many of their troops seemed undisciplined and unmotivated, your usual city-slickers, purposely clogging our comms and bad mouthing my men. Still, when the time came where they needed our assistance, we answered the call. Even though my men and I were wounded in the process, it was worth it. In combat, they shaped up and held the thin line alongside myself and my men. They visited me in the hospital with fancy food and a letter. They said it was an honor to fight at my side, I'm still considering that. I can't say I trust them without lying, but I'll gladly fight alongside them if it's required. Friends? No. Allies? If need be, the enemy of my enemy is my friend."
Relations(

Conscripts

)-

Hated

|

Disliked

|Neu

tral

|

Acquaintance/

Trusted

|

Friend

|

Interest

|

Close

|
Cpl. Jakub
K
urowski
"Right before we moved to the current COP Kurowski was already up-and-coming, showing

great strength

in being a

pure grunt

. I couldn't ask for more in that department. However, I'm interested to see whether or not he can be a good leader, as well."
-"Kurowski has shown

consistency

in what he does, and excelled in both

combat

and

on-base SOP

. Such is the reason why I bumped him up and passed over a spec. Truly a

solid grunt,

he reminds me of

some of the best

. I imagine he'll inspire his fellow men."
-"Kurowski, putting in so many hours in

dedicating

himself to the conscript life and with sheer discipline along with his veterancy meant that he'd gain a promotion to test the waters as to whether or not he could be an NCO. So far, he can, but he might be having some issues with cohesion. Outside of that, no complaints thus far, he's one of our replacements from about a month ago but has

proved his duty time and time again

. He's come a very long way in terms of his progression. Glad to have him with us. He still needs some more work as an NCO, though."
-"He's trying, but he's inexperienced. Though, he's

willing to improve

and continues to do so. I'm really hoping he can become a solid NCO."
-"Sleeps a lot, is awake when everyone else is sleeping. Can't.. can't really comment on anything at the moment, though he's pretty funny while on watch when nothing's going on.
SSgt. Richard
Kar
ter
"Carter has been an on and off NCO in the past. He's a work in progress, though definitely a liked man in the platoon. That said, I don't know where exactly he stands in the NCO duties, I suppose I just haven't seen him in all the duties/aspects yet to form an opinion. He's a
good grunt
, albeit
unprofessional frequently
, it's simply his
personality
. Though, not many have a big issue with this, hence why the platoon likes him. Slightly puzzling, and quite interesting is where I'd put it. Carter
places in a lot of time
, training the men day in and day out. He can also be
too eager
occasionally, however he makes up for all his faults with the
immense amount of effort
he puts in."
-"Carter remains slightly puzzling, however he's continuing to pour in effort to his leadership, while somewhat green in some places, he's improving which is quite good!"
-"Karter continues to put in good effort, and he's one of the specialized NCOs who does his own fields of training, this is really
helpful
since it allows me to funnel specific specs towards him. Not much more to add here, sometimes he can be too hard on the men and a few don't like him for that. I haven't seen him leading that many patrols recently."
-"I'm becoming more
worried
with the amount of complaints which have been coming in regarding Karter's '
hardass
' behavior to humiliate conscripts even
behind their backs
, I hope he can adjust, so far, Kurowski has, but Karter's still on the line about it, it'd seem. When I spoke with him he seems to be more undisciplined than before, compared to when he was a Corporal, among other issues. It would really be a shame if he can't adjust properly."
Sgt.
S
trau
ss
"Strauss hasn't changed much. At first glance a person may believe she's cold, but when you look deeper it's simply untrue. Strauss
cares
but only for her brothers and sisters in arms. Ontop of this, she's a
responsible and reliable
(albeit occasionally ill-tempered) combat medic who will do anything you need her to do in combat. If you tell her to
save someone's life
, she'll do precisely that. A
solid individual
without a doubt, and truly an
asset
to the platoon. She's
competent, disciplined, caring and sharp
enough where I'd consider her a leader."
-"Strauss continues
improving
, I'm satisfied at the rate she's progressing."
-"Honestly, right now, Strauss might be one of the
best NCO
s here in the two basic non-comm ranks. She's SUCH a
nice help
around the base, from leading squads to training teams and just boosting morale. I can
trust
her to get things done easily.
Very glad
to have her with us."
-"Strauss seems a bit.. distraught regarding the recent events, I'm going to give her a bit of a break to help her relax and get her head back together, by request of some of the grunts who have expressed their concerns for her health. She's strong and doesn't need it, but I agree with them; it'd do her some good, a short break. I need you thinking and acting straight,
Strauss
, you're my most
reliable
, active NCO right now.
I need you in the fight
."
-(11/26/18)"Uh.. let's just not talk about
that
one."
1Lt.

Leclerc
"Our French platoon lieutenant. He sets the standards, and comes around now and then to ensure they're maintained. From what little combat I've shared with him, he seems sharp. In peacetime, his relaxed standards boost morale greatly, and his open communication builds cohesion among NCOs and grunts alike. A solid leader for us."
Spc. Pavel
Antonivich
"Pavel is my good
friend
and a
solid combat individual
in my past experience. By that I mean since SIDEWINDER as grunts together to now. However, perhaps our standards occasionally slip and Pavel got drunk, starting a fight. Despite his
drunken
issues
and slight
unprofessionalism
during peacetime, I hold nothing against him, as I know he's going to
perform and exceed
the standards necessary to finish the mission in combat."
-"Honestly a shame, seems all the peacetime and undiscipline has gotten to Antonivich. He was about to receive his promotion in the coming weekend when he capped the CO in the head. Although I took the chance to reprimand and blackmark him(others wanted to demote and blackmark), he
didn't take it properly at ALL, no responsibility.
Again, a shame, but hopefully he can improve."
Sgt. Ross

Flet

che

r
"Fletcher is still Fletcher, a decent combat leader and a
solid standards
model. For what he sometimes
lacks
in, such as control or sharpness, he makes up in other ways. He's
consistent
and I
trust
him to do most duties as a conscript, especially
standards
. He's the kind of guy you can place by a group of drunk conscripts during peacetime and he'll ensure that they get home in one piece."
-"Fletcher still has
frequent signs of his own discipline breaking
, despite him somewhat maintaining others. He broke one of the most important rules of NCOs which some wouldn't even go near. I'm
afraid
that even puzzling NCOs like Carter may be better than him in this aspect. It's not good, I thought he might've been improving but perhaps he's getting even
worse
. He
understands
his problem, but understanding is half of the fight. We'll have to see where he goes. Simply put, if he can't keep a level head and he can't maintain discipline, he needs to be replaced. Standard simple SOP, however I'm sincerely
concerned
."
-"Fletcher remains questionable, however his recent attitude has changed for the better which gives me some
faith
. He still does his part as an NCO, but leaves plenty of room for improvement."
-"Unfortunately, Fletcher is quite frankly not a good NCO anymore. Especially in recent times. I mean, in the past he wasn't a good combat leader either but now everyone is
losing faith
in him, it started with the grunts and I'm beginning to feel it, what a shame."
-"I spoke with Fletcher, and he seemed to understand his issues. I have
faith
that he can improve and become a better NCO, I'll let him take a break and see if he can get his head straight. I think I still trust him."
M/Pvt. Judy

G

arland
"Garland is still Garland, a
ver
y e
ager
combat medic who's
knowledgeable
in the
medical field
, but can more often than not be
closed minded
and stubborn, if not completely crazy. Despite her flaws, we've all come to
appreciate
her traits of being an
efficient combat medic
, whether the activites is
clearing a house
or
saving a life
. She's definitely one of my go-to's when it comes to assessing the needs of medical equipment or ensuring that a conscript's life is saved. She can truly sometimes be a puzzling individual, especially as of recent times, I hope Strauss can take care of her."
"Garland has shown herself to be consistently
faulting in her discipline
, even over a PDA, and it's got me worried at this rate. Despite her flaws, she's still quite an
efficient medic and combat veteran
. That's worth something."
-"Well, shit. I don't know what to say, it was very unexpected.
I
hope you recover
, Garland, not just for your own sake, but also for the sake of everyone's morale."
-"Garland has been recovering lately, and the medics have given her some
good news
, too. She spoke with me about her commitment to improve her discipline,
I
appreciate
that greatly
. It's
good to see she's still in one piece
, definitely will help the
platoon's morale
, too.
Welcome back
, Garland."
M/Pv2.

Ryan

W

inkler
"Ryan Winkler is one of my favorite grunts, he's got the right amount of
wits and sharpness
. He has no negative attitude nor any ego, he
does his duty and only his duty
, with
little to no nonsense
around the corners. Outside of combat, he's a
friendly guy
and easy to get along with. I'm thankful he's in the platoon, his
experience
in the combat and medical field is invaluable."
-"Still a good guy, and a
good pianist
. Very
reliable
, I
trust
him completely.
Cpl.
V
olkov
"I was initially skeptical of this conscript. He came in as a recruit looking green as hell, even to this day he's

still green

and

makes mistakes

due to his

inexperience

. In peacetime, when off-duty he's

not discreet

enough, and he

doesn't seem humble

. However, he slowly but surely

gained my trust

in him as a grunt with the responsiveness he had during patrols. He placed faith in me when he

followed me into the pits of antlions

swarming out of the sand. That goes back around, he's been

improving

a ton,

glad

to have him with us."
-"Volkov has remained consistent, his experience has netted him a nice paygrade raise to E-3 as well. He doesn't seem to have most of the problems I've mentioned before, infact none come to mind as of recently. Hope he keeps up the

good work

as a grunt."
-"Volkov had a discipline incident about a week back. Since then he's done a

good job and kept a good record

- Antonivich should take some notes from Volkov on how to act. Although Volkov

initially

didn't take responsibility, he later overall did and tried to make up for it. Outside of this, he's still been an

exceptionally effective grunt

, although he

clutters comms

occasionally. Volkov wants to become a specialist however his training method needs work. For what it's worth, he's come a long way from being a green recruit to now a

reliable

grunt

. I still

trust him

to watch my back."
-"What a journey for Volkov. He was pretty bad when he first enlisted, then he got better, but still slipped up in some places. Currently, he's

extremely good

, I have no complaints. He also solves more problems than he creates, sadly something that is noticeable nowadays in the bigger picture of the platoon. He's not a bad guy to converse with and takes care of his men

exceptionally well,

an important trait. Overall, a

steadily improving leader,

he's got a lot of potential. So far, he's using it quite well, glad to have him as an NCO."
Pvt.
Jebediah Marlowe
"A mostly fresh conscript who was on rear echelon duty with our command team. I handed him a guitar and told him to paly some tunes, despite never playing one in the past, he played exceptionally well. Nice sense of humor, too."
Pvt.
'Devil'
Esposi
to
"Hmph. Where to start... Devil's a marine, he was an exceptionally efficient grunt. He had the skills and the experience to do a lot of good in both the conscripts and just in general, but his heart was in the wrong spot. Instead of becoming a good leader and keeping men alive in the fields of combat, he vowed to leave those which didn't deserve respect behind. I get where he's coming from, I really do. Many can and would agree with him, but not his methods. No matter how useless or shitty a conscript is, I'll atleast give my best shot at bringing them back home. This isn't a one man show, and going as if it is meant that he was a liability. It's honestly a damn shame it had to be this way. In any case, he had it coming with his mentality. If it wasn't us, it was for sure going to be the union. No way would I let a faceless nobody do that. I have some gripes about the way he went out, there's no denying that, but what's done is done. If I could go back and have it my way, I would, but I can't. Atleast he beat me to getting out of this shitty world, asshole, hah. Rest easy, Semper Fi, Devil."
Pv2. Coleman
P
edersen
"Pedersen was a transfer, he shipped in about half a week ago and since has proven his

experience

rather fast. This must be at least in part from his prior service. His

comm SOP

reminds me of the old days and his

sharpness

is meticulous. He's

eager yet

disciplined

unlike some of the other conscripts who are eager. For example, if he wants to take point, he'll ask for permission. Generally in the past, green and eager conscripts just run up ahead, which is a big no in my book. Already Pedersen has gained

respect

from many of the men, including myself. He helps around the base during peacetime by cooking up a nice beef stew, and during yesterday's raid he took point and neutralized four hostiles himself. I have

high hopes

for him."
E/Pv2. Steven
K
lein
"Klein is also a transfer who shipped in roughly half a week ago. He too has

proven himself

quickly but in a different sector,

combat engineering

. Unlike other engineers I've seen in the past, Klein is a

legitimate COMBAT engineer

. He's one of the first ones I've seen do

practical operations

such as EOD and demolitions. Not any of the robot or castle building bullshit I usually see. Sorta like Pedersen, he's got an extensive record, and so far he's our

best engineer period

.

Good

guy."
E/Pfc. Melody
H
arrisson
"Harrisson, what a mildly annoying name to spell. She's got quite the history, most of it dark but I'm glad she's put it behind her. She's now an

energetic

engineer, and despite her bad luck with combat injuries sustained, she presses on. I'm glad to have her in this platoon, she

adds a nice amount of life

into it. As for her

effectiveness

solely as a combat engineer, I can't complain at all, she does her job well, she's

level headed

and

sharp

to follow orders. I

trust

her."
-"Harrisson is truly a nice

help

in the current scope of things, she comes to me often for assistance.

Effective

in her line of work. Easy to talk about hard things with, it's just nice to have

someone to talk

to, even if it's mutual, I don't really mind."
-"Harrisson does

great work

as an engineer, and she always

tries

to be of help. Overall a

well rounded

combat engineer, the only issue is her

attitude

, but I'm trying to have her work on it. I still see her less as of a connie and more of like a family member, strange. I guess it's the whole comradery thing. Glad to have her with us."
Cpl. Autumn
M
oreau
"A beautiful name for the French sharpshooter, which seems to match her
thoughtful
heart. I have unfortunately not seen her combat experience or discipline in patrols because well, she's a sleepy Frenchie. She's put forth plenty of
effort
despite this, going beyond the standards required of her, she's a
nice person
. Very
thoughtful
indeed, especially going over our pre-war lives with Agasti, and a
crack shot
with either a carbine or a DMR, as can be seen with her defence of shell beach. She's
different
than the other conscripts, not necessarily aggressive or energetic, more like.. calming. Tough to explain, really; but nice to have a change of pace in the platoon."
-"She proved herself very well in yesterday's mission, covering what was left of that snowy, combat ridden FOB with out platoon inside of it. She had over 40 confirmed kills from this alone. In today's JW she again showed her sniper's reflexes by taking out three rebels rather quickly. She's definitely our best sniper at the moment, reminds me of Lancer. Outside of that, she's still herself, which is the part I find intriguing. She'll go far."
-"Moreau..
mh
.. don't really know what to say anymore. She's a
solid grunt
, and the
best
marksman/sniper in our platoon, I hope she continues to improve and progress. Really
nice
as a person, actually pretty intriguing,
I trust her
with my life."
-"Still a
crack shot,
she'll definitely keep me covered, I'll hand off the new rifles to her ASAP."
-"I always knew she had a lot of
potential
, I just didn't know if she was fit for being a leader. That said, she's a
capable NCO
, there just hasn't been a whole lot of action for her to prove herself(or not). Not much else to comment at the time, she's still
goofy
and does some weird stuff, like when I walked in on her the other day."
Pvt. Paula H
arper
"She's a

nice person

, and

helpful

- she seems to

care

for her comrades. Albeit a little shy. I haven't seen her in combat enough to tell whether or not she's a good grunt, but she's atleast a

good person

. I'd like to see her around more often.
-"Are you kidding me?"
Pvt. Felix
Dinu
"Dinu is an odd conscript. He's not exactly a good grunt, actually - I think he'd be better as on-base staff than a conscript. Still, he tries his best and means well, it's just recently he's been putting his team at risk occasionally. Some training would do him good, along with a change of his attitude to something more simple. I mean, I got nothing against him.
"
-"Well, as I told him, he needs to think simpler and more efficient. A level head would do him good, and from there more training. He's been
pretty helpful
in the problems at the FOB. His heart is in the
right place to improve
, he just needs to actually train and improve his effectiveness as a grunt."
M/Spc. Felix
Ulfs
son
"
Ulfsson is slightly odd. He's overall a well rounded,

good medic

to have, decent grunt. However, about 60% of the time I see him, he's

sharp and attentive

. The other 40% he's in a

trance

and you just can't get to him. I don't know if it's a psychological thing, but I'm gonna have Takahashi check on it. The

other day

, I told him to pull security but he just kept standing there in his trance, a

zombine rolled up to our fireteam

with a grenade which I had to gun down because Ulfsson still couldn't get his weapon off his sling. I have nothing against Ulfsson, but

if he can't perform he's a liability

. I need him to perform, else I'm gonna have to put him on noncombat duties.
"
-"Ulfsson is coming along nicely, he's improved quite a bit. I still have some distaste for his combat methods but outside of that he's a reliable combat medic and a decent grunt who puts in quite a bit of effort. His rank represents that well, I believe."
M/Pv2.
Singleton
"Singleton in the past has caused some problems, but personally I've never encountered them. He's a mostly
reliable
combat medic who sometimes stirs the pot but outside of that there's not a whole lot to comment on at the moment. He's become like the platoon's clown or something, but again I haven't personally seen much of it, just hear a lotta banter. Regardless,
nice
to have him in the platoon with us."
Michael
'Pepsi' Takahas
hi
"I've finally gotten used to the spelling of his name, it only took a couple months, I'm uncertain whether or not he's GRID but it's safe to assume he is. Despite whatever little stuff GRID does in this city, Takahashi is one of the
friendlier
units who has been a
help
in diffusing what would otherwise be escalating situations. His previous experience might not give him a lot to work with, but his new-found one, whether or not he knows, could be handy. Maybe they should sign the guy up for being a
negotiator
."
-"He's come a long way since my last entry, now a OfC - still for GRID. He's wanted to enlist in the conscripts for awhile but he does not meet the physical requirements - plus he's a bit green, that's too bad, but he still seems to have his
sanity
. Hopefully his current occupation can work out for him, he's a
nice guy
and deserves some joy in what he does for life."
-"
Pepsi is (finally) back
to his conscript brothers and sisters. He's still his very
joyful
self, that's great for
morale
. A
cool
guy, I hope he can become our psychiatrist. Atleast, that's one of the potential primary occupations he can do. Up to him, really, but everyone including myself seems to have no qualms with him."
Sasha
Nikol
aev
"Nikolaev is a complex character. I liked him, then I disliked him, and now I'm sorta liking him again. He seems to have fixed his mistakes and ego of picking fights with conscripts and citizens alike, his true purpose is with his camera. Unlike your normal civvies, though Nikolaev carries no weapons, he's not afraid to go into the dirt and grime of combat, I believe a lot of greenbacks respect that. Unfortunately, he doesn't have his camera anymore, so I'll have to see about requisitioning a new one for him. "
-"After requisitioning his camera for him, Nikolaev's been quite a

good assist

to our platoon. He's still a good combat photographer and he helps run errands and maintain the base, nice."
Spc. Leonard
S
t
okes
"Stokes is our new replacement SNCO/NCO unlike most of our transfers, I haven't known him for as long as most of the conscripts here, but he's
reliable
. He's proven to be
very effective in combat
, able to
follow orders and communicate sharply
along with
micromanaging
on his own. I have no complaints about his combat. During peacetime however, Stokes can occasionally get a little out of hand and be
unprofessional
, however, what kind of conscript doesn't? It can set a bad precedence for the men as an NCO regardless. I still hold
full confidence
in his combat abilities."
-"
MIA
."
E/Pv2.

Kowal
"Kowal has

shown improvement

compared to his days back as a GRID CEO(massive pog). Seems placing him out into the field has placed him in a position where he's forced to adapt and thus far it's only benefitted him. I actually don't mind having him in my fireteam anymore, not much to complain,

a well rounded soldier

who's trying to

lose the flaws of his past

."
Ruslan Pet
renko
"Petrenko has an
extensive combat record
, showing that he's
consistently served
his duty and followed regulations
as required. Funny enough, a year ago this is
exactly what we'd want
in each of our men, at the minimum. He's on edge often. However, in our currently deployed theater it'd be far better for him to ease up during peacetimes while bringing back the sheer grunt mentality when it was time for combat. I can't blame him though, sometimes it's tough for me to ease up, our style of life means that you should never lose your edge, it should always linger in the back of your head no matter how peaceful or controlled the situation may seem. Regardless, I believe Petrenko should attempt to relax sometime; it'd do him some good."
-"Unfortunately seems that the platoon doesn't like quitters, I would have to agree. Though I'm glad he quit now, I'd rather he quit during peacetime than in combat when it counted on everyone's lives. Hate to say it, but he lost my trust."
-"I can't say I trust Petrenko as I once did without lying. At the same time, I don't really hold anything against him. I haven't been able to see his engineering, combat or other skills. But from the few interactions I've had with him, he's
funny
solely because he's an MPF officer who isn't all about the 'glory to the union!' bullshit. Seems like he could still be a
cool
guy, but I've also heard
otherwise
from other officers, like some pretty bad stuff. Seems complicated, I mean, I'd still fight alongside him if it was required."
Vasiliy
Vaka
zinki
"I've gotten the hang of saying and writing his last name, now. Both his and Antonivich's actually. A consistent grunt, with not a lot to mention about him. He's actually quite similar to Volkov in that sense, just that there has never been anything bad of Vakazinki to begin with. He also doesn't get drunk as fast as Antonivich, so overall - he's a

good and reliable

grunt."
-"So, Vakazinki is a long term

veteran

. He was also well rounded in all the attributes of being a conscript, albeit not skilled in all of them.

Jack of all trades

, master of none. Most importantly, he was somewhat

willing

to take on the role. If he's willing, we can improve him. Anyways, since I've bumped him up to E-4 he's performed alright, he does need some improvement, but like Kurowski,

he's working on it

. At the moment, that's what counts. I have

faith

he can perform

what's needed on the upcoming deployment, so help me god."
-"Vakazinki decided conscript life was not for him, I

respect his decision

as that's his. However, it's not something I completely agree with. Regardless, I believe he will do good in the MPF, and we'll probably cross paths to

fight alongside

once again."
Relations(

Union

)-

Hated

|

Disliked

|Neu

tral

|

Acquaintance/

Trusted

|

Friend

|

Interest

|

Close

|
Unit
1
4
1
-
Amenset
"Whoever this unit was,

she had some nerve

. As I was introducing myself as the PSG, she stepped out from attention and

stared directly at me

for several seconds before falling back in. I noticed this but of course I didn't call it out, something about this

caught my eye

, I can't get it out of my head. The main reason for that, is cause she took her faceplate off at one point and good god was she

attractive

."


-

"I've not been a man of romance for close to a decade now, being focused on my men and all. But this woman is

astonishingly perfect

, from the

class

she uses to speak to the

personality

that she carries herself with, I sincerely couldn't ask for more. It was simply astounding to see the

medical worker

which my medics consistently rave about, the mysteriously

attractive

woman at joint-training and the polite,

caring

MPF officer all be one single person. I hold no regrets for what we've done, and

I'm unendingly thankful to be in your company, Amenset

."
-"Wow, is she

something

. She definitely has an

effect

on me which makes me question my morals and discipline sometimes. Highly out of control, and she's making me do the same, heh."
-"I really can't stress how much

she helps me

. I've been so exhausted from the prior month, sometimes I forget where I placed my remorse, empathy, joy, sadness or anger simply because I had no time to deal with any of it, the operations, missions, patrols, sweeps, politics, punishments, regulations, death.. My conscience becomes clogged and compartmentalized to aid with the day to day struggles of conscript life, I become cold, I forget to feel, but somehow someway, she finds a way to clear my mind. I feel so..

human

around her. Warmth(both

literally

and

figuratively

), emotions, comfort, just a ton of things I wouldn't be feeling if I was on duty, it's so..

natural

. My training tells me I should tread carefully, but I know to find an equalibrium between duty and life. Still, she knows everything about me; and I know everything about her. I've never been so close with anyone as I am with her, the

bond

which we

share

: It's not something I take for granted. I really appreciate

everything.

I love you, Amenset

."
-"I haven't forgotten

your

offer

, I'm just busy. I'll

write to you

, and one day we can

share that dream.

Til' then."
-"I hope you don't think of me differently for this, I just don't want to be married with you. Not now, atleast. Don't get me wrong, but you just aren't around. And whenever you are it doesn't feel right, not as right as it used to. Let's just remain close friends, we should not be doing anything too rash. After you tried putting your duty infront of us, then asked me to put you infront of my duty, I haven't been the same. That just felt terribly wrong, I may have misjudged you completely. It might've been a long time coming, and I still appreciate everything you've done,

but this cannot continue

. I just don't trust you anymore after what you did to me for C01. ..Goodbye."
Unit
1
54
"
154 is a unit I'm

quite fond

of. She asked for help a couple times and despite our distances we were able to move to her position. Though we arrived on the mark of our ETA, my fireteam wasn't needed because she had

beat the perpetrator

to death

with a lead pipe

after he grabbed her gun. She seemed to not even be winded, as if it was all SOP.

Not bad at all

, but it

leaves me

curious about her story. Maybe I can get to know her better.
"
-"154 is quite the exceptional officer,
nice
to talk to during peacetime, has a surprisingly adept sense of humor and
reliable
in combat. She's been of great assistance to my platoon."
GRID 01
209
"A
professional
officer. Able to de-escalate and take command of their units, along with being handy in our sweeps. Definitely
one of the more well rounded, sharper units
that I've seen around here, unlike their peers. Hopefully they can develop their subordinates to become similar to
their efficiency.
"
CmD

54

4

"Though I have few interactions with this unit, they're all quite nice. He's clearly got a

good brain

in his head, he's

sharp and smart

. He's a

capable leader

and a

solid officer

. I have no complaints on his performance, I'm glad to be working with him and his

open mind

, unlike one of his DvL

peers

."

-"He remains

consistent

, still the best MPF high command. He's friendly time to time and offers a hand when he can, pretty easy to talk to. From the interactions I've had with multiple officers, their

favorite HC

too is this unit. Nothing more to note, as again, he remains

consistent

in his duty."

-"Well, he's commander now. Ran into some politics with C01, can't blame him. My overall opinion remains unchanged."
Relations(

Citizens

)-

Hated

|

Disliked

|Neu

tral

|

Acquaintance/

Trusted

|

Friend

|

Interest

|

Close

|
CWU
Thorpe
"She enjoys being called Miss Thorpe, actually. I have had few interactions with this civil worker, but all have been

pleasant

. She seems to be a shy,

polite

,

hard working

CWU member.

Her work blocks

are set up

perfectly

to the point where it's of

admiration

, she's truly something

citizens should strive to become

. Well.. aside from the tobbacco and frequent coffee."

CA Dr.

Daneri

an

"Danerian is a CA I'm

relatively fond

of. She's given me no reason to dislike her in the slightest, she's

helpful

and conversing with her is pretty easy. She keeps things professional, smooth, and easy going for the most part. I do my part, she does hers, I'd say

we get along nicely

."
Pax

Kaleshknov
"Pax has been a great help to our community and my platoon. He's served them food and drink, given them a discount and even saved one of their lives during an engagement. A very interesting figure and an overall nice guy to have a chat or a beer with. His exemplary duty as a citizen netted him the first and only Outstanding Civillian Service medal. Nice guy."

-"He's still been of

great assistance

to conscripts, and he has a new rank. I believe he can be a

solid leader

, and so far he's

proving himself

. He's a

good man

, I believe he'll go far. I've

got his back

."

-"Funny thing, when we went to move the FOB we had some spare crates lying around, and in one of them was an entire shipment of food from the Grotto delivered from Pax himself. What a welcomed surprise, the platoon will enjoy it, most still miss the Grotto, but life moves on. Hope you're still doing well, Pax."

Andrew

Haze

"Haven't seen Haze since our one chat, I hope he got to do what he wanted to do down there.

Useful

guy, I'd be pretty willing to help him out if he needed it. Hope he stays safe, there's a lot of enemies out for him."
Relations(Factions)-

Junk

|

Disliked

|Neutral|

Liked

|

Trusted

|

Close

|
Metropolice Force
"Most of these guys are actually just fine. I will get along with them as long as they make an effort of getting along with me, too. Back at the ball they left a bad taste in my mouth for being unprofessional, but those units have since been reprimanded. Their leadership seems to be the best, but there's a big gap between their grunts and leadership. Despite this, I'll do my best to help them improve."
Relations(

Conscripts

/

Union

)-

Hated

|

Disliked

|Neu

tral

|

Acquaintence/

Trusted

|

Friend

|

Close

|
"I-I left them behind, I'm sorry. I couldn't carry them."
"Don't fucking sweat it! You're alive, c'mon, we're gonna move you - we being me."
"I failed you guys, I thought we could break out of the encirclement. ...It's my fault those two are dead."
"Don't sweat it Leon, you couldn't help it, you were being drowned already."
"I-I'll never forgive myself."
"For what?"
"That my men died and I didn't.."
(Deckards and Konrad conversing after Deckards found Konrad, The Ambush of

The Cold Ridge

.)
(deceased)Pv2.
Macleod
"A pretty new private, but he's extremely intelligent and competent. This madman ran through a hail of bullets TWICE to save two conscripts and get them back to base, I'm putting him up for a medal and a promotion."
-"Today I finally delivered the medal, and he hasn't let me down since. A hero."
-
"A sad death for a hero, but he kept doing his duty for his brothers until his last breath. When I found him, he was surrounded by over 80 rebel corpses on a mound, he died by a sandbag. A few meters to the left, near the mortar, was Tretskov, who died as well. I tried to bring them back.. but my body just wouldn't allow me to. I tried to carry them, but my wounds began to open, I could hear the shouting as more of them moved on my position.. I'm sorry. MacLeod's IFAK saved the life of Pfc. White, making sure I didn't lose another hero, I carried White back myself through the valley of death. Rest in peace, brother.."
(deceased)Pfc.
Tretskov
"A great shot, he uses a DMR. Very reliable in the field from what i've seen, and he doesn't clutter the comms as someone.. say strauss would. Glad to have him with us! He was feeling down so I gave him an entire bottle."
-"Communicated clearly and efficiently in the firefight, he was key to it as he was the only one with the DMR, extremely reliable, even if he got shot. I trust him to watch my back."
-"He's competent, smart, and sharp. A good grunt for sure, and an even better marksman."
-
"Tretskov died seconds after MacLeod did, I used his M16 to defend myself against my trailing assailiants. He died like a hero, alongside MacLeod, holding the line so that others could escape. I wish I could've been there for him, he's a hard russian, i'm sure he went out the way he wanted to, with his brothers. The crazy man might've even enjoyed it a little bit! They went through hell, killing over 80 rebels while visiting, now that that's done, I hope they'll find a place in heaven.."
Pfc.
White
"A good infantry guy, he's from some state in the south side of America. Similar to
Eddy, he didn't have any problems following my lead and was able to help me in whatever I needed done.
He
liked the pizza.
... "
-"White has been very consistent and effective in patrols. Following orders sharply and being able to throw down lots of lead with his 249, i've recommended him a promotion for his consistency."
-
"I heard White's calls on the radio, I'd already known MacLeod and Tretskov had died.. I ran out to find him, only to see that Milky was keeping him barely out of shock, I swore on my life that I wouldn't let another hero die. With MacLeod's medkit, I was able to save White's life and I carried him. I kept running and running, being shot at and chased, I ran through trees as they splintered into my eyes, I ran as the snow bit into my bleeding cheeks and my bloodied shoulders, I kept running. I ran, sliding down the mountain as my shins burned out of it's skin, exposing the flesh. I ran into the valley as the jeep fired it's cannon, hitting the rock like a thunderstrike, ran and ran, til I couldn't run no more, I took Tretskov's M16 and fired the remaining amount of it's ammunition as the car rounded the corner. I shot until the entire damn thing blew up, in excruciating pain I climed up the 40 ft cliff with White, I could feel my shoulders and legs want to give up, but I had made a promise, I climbed til' we reached the top, and ran as they followed us, before long I could see: we made it.."
Pfc.
E
dd
y
"He's a nice infantry guy, he's got no
problem following my lead
in things and is
definitely in touch with the reality of things.
He
hated the pizza
and trashed his slice."
-"He does seem to have some problems though...
He's distracted too often and enjoys weird stuff.
Something about tires.."
-"Speaks and understands a lot of truth about the company. But seriousness aside, he's literally a clown and quite funny."
-"Deckards quick-thinking allowed me to get into position to save the platoon from certain death, even though we were all wounded trying to hold the line, it was still worth it as no one died.
-"This man saved my life, he
self-consciously volunteered to go back behind enemy lines by himself to find me
. When he did, I was in such a bad condition and being chased down by platoons of rebels, but he still carried me all the way back through the enemy lines to safety.
I trust him with my life
."
-"Deckards has been a great help on base taking care of the prisoners, so I created a GM role just for him to continue doing what he's doing. Good to have him."
-"Deckards has been..
INCREDIBLY useful on the FOB
. He's
come an extremely long way from what he was before and has shown mountains of
improvement and dedication
. He's a
solid soldier
, i'm bumping him up to see if he can be a good leader, too."
________________________________________________________________________________________________________________________________________________________
Cpl.
'Lan
cer'
"
An expert marksman
, I've spent many hours with him on the watchtowers spotting out targets and taking them out, along with directing fire and ground troops. He's
extremely reliable and again, a very good shot.
We make a
good sniper team
."
-"Well,
we've become THE sniper team
and are working on our
700 meter shots
. Though this is just stuff for the base defense, on the field, I will probably be on the front."
-"I put forth a
commendation
for your service thus far, I'm
proud of you, I mean it. You have the potential and are using it.
I'm glad we were able to
rescue the men
, no casualties is what I always want, anyday. We want all of them home safe. It's good to see the
grunts
gaining
respect for myself
, it's great for
cohesion
and it
warms my heart
. I couldn't do it without
you and the others
."
-"Lancer has shown great leadership potential from the last PT exercise conducted, therefore i've recommended him for a promotion."
-"From what i've been keeping track of, Lancer and I now have around
30
confirmed kills on armed denizens
since arriving."
-"Wow! A long time since writing here again. Lancer hasn't changed much, he's shown
exemplary tactics
both in combat and in training. He's as
reliable
as I ever thought him to be as an
NCO
since SIDEWINDER. Glad to have him with us."
LCpl.
Jes
sica
C
ollins
"Known as M60 woman between myself and Pavel, or actually, Pavel knows her as Ladything. In any case, she carries around an M60. Very reliable in today's breach of the base.
I have one of her trophy's
."
-"
Jessica and I have been getting along quite nicely
recently. We've developed our own kind of secret game.
She's very enjoyable to converse with
, and her
M60 brings more suppressive fire
than any other handheld gun in the company.
I'll try to watch her back.
I can't say I trust her in combat just yet cause I haven't seen her enough there."
-"Took a harpoon hit, looked pretty bad, hope you get well soon."
-"Jessica and I seem to talk a lot and hang out often,
we're quite good friends.
She's
got a lot of knowledge
past the M60.
I enjoy her company!
"
-"Now a Lance Corporal after being a First Class for awhile, she's been very consistent for awhile, so it's good to see her having a promotion. We should stop messing around on missions though, and
save it for an RnR later or something
, could be dangerous for us ;)"
-"While she isn't exactly NCO material, i'll do my very best to get her up to par so I have been teaching her the basics, now officially in my mentorship.
Also i'd say our games are pretty entertaining! I can appreciate that.
"
-"I started mentoring her, and also let her take out a patrol today. It went well! I have high hopes for her, she's learning very fast under so far and
i'm quite satisfied with the rate she's progressing.
"
-"She still has her work cut out for her, but she's improving.
Did pretty well on the PT today
, but she can do better.."
-"I'm still monitoring her NCO progression carefully, she's lead another successful patrol and she's improving, but I still want to see more. Aside from that,
she and I
have a
great time together
on the base doing,
well just about anything
! She's an
extremely kind person
, I just hope that having such a trait doesn't come back to bite her. In any case,
you being with me out here just makes life that much easier
. I never take anything for granted. It's good to have you with me, I wouldn't have it any other way."
-"I've recently gotten wind that people believe Collins and I share a personal/romantic relationship, this is not the case, we are just really good and close friends; atleast currently. I hope and believe she shares the same feeling."
Maj.
Di
sne
y
"The new XO for the battalion, CO of our company AFAIK. He's from 17th bn., x-ray co. He's quite smart, he has an agenda which needs to be fulfilled and is
quite competent
from what i've seen so far. He voluntarily
asked for problems of the company
, and immediately solved some of the other ones
.
This is something that hasn't been seen before in any of the leaders i've served under on this base
. Glad to have him aboard since our structure has been somewhere like 125 privates to 1 sergeant ratio(thats just regular command, the high command gets worse), we were in desperate need of some high command.
He's got a shit-eating grin
, which is pretty funny. Some of the guys really like him, and a few don't, tough to tell right now since he literally just came in. We'll see where he goes, til then,
he's got my full commitment
. I'd say I can trust him pretty well!"
-"On some FUBAR operation today, everyone was split and disoriented due to these hulking metal beasts. I saw HCU Pv2. Corbulo getting pinned by one on a wall, so I emptied a couple mags and affixed my bayonet onto my M4A1, chucking it at the thing to distract it from Corbulo. It worked, but the thing didn't die - it only got angry and was about to grab me when the LT dove and tackled me to the wall, saving my life. Little later, I was covering the LT as he blew down a cooridor on two of the golems, a third one flanked us which was called out by Biggums(thankfully I requested that he hold that flank a couple minutes ago), unfortuantely I wasn't able to escape with them, I prepared for the worst but LT and Biggums came back, shoving their bayonets down the thing's shoulder blades which neutralized it. Though, a little later, another of the damn things cornered me, LT and another guy tried the same thing, but it didn't work. I tried lunging my bayonet when it turned around on them, but they got cut off. It grabbed me, so I pulled the quick release on my rig and backed up, shooting at the grenades on the rig with my glock. It didn't do shit. I got knocked out from the gas and four of em surrounded me, I don't remember what happened afterwards. But in any case, i'm damn glad the LT was there to help us. I'm willing to bet he's got the respect of every man on that mission."
-"LT showed us today he's not afraid to instill discipline among the troops, this means he's tough when he needs to be. By far the most competent form of command we've had in a long time, aside from potentially Hayes."
-"LT made it clear we can bring things up the CoC and speak with him about all matters, he's open minded and competent."
-"Considering I'm being transfered out of the Company and into the 24th CHAD, I'm not gonna lie, probably going to be pretty hard to find a CO as smart, sharp, knowledgeable and open as Disney. Likewise, his men have had a great sense of respect and duty to serve the officer. Not just that, he's got a sense of humor, the best CO I've ever had. What's a man to do in a situation like this, other than, 'oh well, too bad.'. That is the case for this, it'll be tough to find a better CO. Until next time, sir."
Pvt.
Pavel
'The Great'
"Well,
Pavel
is Pavel
. He got drunk somehow, I don't understand how that happened.
Genuinely a funny guy,
but simple guy at the same time. He's
reliable
, just not someone you'd want to attend your wedding. He seemed to talk a lot with:
Pvt.
Damian
- Or was it Davion? Damon? I can't remember, think Pavel said Damon as in Matt Damon. He too is
funny
(just not as much as Pavel), seems like
the two keep fighting
over small stuff. Makes it a really
hilarious
situation, good to have refreshing people at the base though. I'll look out for these guys."
-"Pavel brother! I
didn't go to the ball today
, I was out doing some 'stuff' but I brought back some.. somewhat
gifts of the trade
you lightweight, drunk mess! ehehahaha!"
-"
I got your back, friend, life is good!
"
-"Pavel shows great leadership potential, he may take things lightly or be mildly drunk off of nothing, but in combat he is sharp."
-"Pavel has shown a bit of an alcohol diet, but I still give him vodka now and then."
HELIX XMO.
St
r
auss
"She
speaks too much on the radio, cluttering it
. That said, she
follows orders swiftly
, just
lacks some competency
. I believe it's improving though, yesterday she reported to me instead of cluttering the radio, that's improvement right there. I decided to give her the promotion because she did a
better job
than Thompson. However it's tough to tell whether or not Thompson is more competent, even though he's silly.
She still needs improvement
."
-"Since then, Strauss has joined HELIX as a T/3 and
done multiple surgeries to save men
. I can respect that, though she still
clutters comms
here and there. Perhaps sometimes, things just don't change. We'll see, until then,
I'll still watch her back
so she can
save my men
.
-"Reliable for information, though some may see her as a snitch. It's tough to tell, really. I guess i'll leave it at a loose mouth."
-"So far,
I actually like Strauss quite a bit. She's improved a ton and is
very reliable
on the field!
Lots of improvement
, I can see why she's a T/2, infact
I think she's T/1 material. Extremely useful and follows orders far faster than she did before
."
"Apparently, she's more than T/1 material since she's now the AXMO. Not much to say, she's been consistent with the last time I've checked, one thing to note is that
she's a freak for inspections,
each time she's
exceeded the standards and been a great example
."
-"Strauss, now XMO, is the side of HELIX which is a little more
pleasant
to interact with, atleast, on a casual standpoint. The reason why is, well, she's basically a solid HELIX Unit who maintains the standards of the detachment, while
not overstepping their boundaries in the SOP
. Ontop of that, the
sheer amount of potential and progress she's made is impressive
. And each inspection to date she's been
a truly exemplary soldier
."
HELIX CMO
'
J
udy'
Garland
"She's a
wild girl, extremely good at combat
and
very good as a medic
. She's very
reliable
on the field, but I haven't ever been neck to neck with her on a patrol, she
definitely enjoys combat
. She tends to take her mask off in sims, I think that's a
decent amount of danger
, but I think
she craves danger
. A great person, and like I said, a wild girl.
I can rely on her anywhere
."
-"
Probably the only MPF who doesn't have a pale face
, her's is quite tanned."
-"She's
kinda crazy,
but means well in her work. If I recall correctly she
saved a conscripts life
in a really hot zone. It's good to see somebody cares. Hope she can get those meds delivered."
-"
Great at combat,
and serves well as an auxillary leader. She fights very aggressively, with her
shock tactics
we overran the denizens and were able to recapture the supply drop."
-"The last operation would've been all shit without
Judy's help,
she was able to get lots of men
back to the front in fighting condition
, invaluable on that op, to say the least.
She's amusing to speak with
, we talked a lot about how drugged up most of the HCUs are. She also stood up for everyone else by reporting a potential threat, can't say enough."
-"In today's QRF, she proved extremely useful as a combatant, sometimes I think she's more useful taking lives than saving them. Still, of the men MacLeod brought back, she saved them. An invaluable asset to the company."
-"Garland in general is a
very important
piece of our composition. She's the leader of the HELIX, that said, it doesn't exempt her from some of her issues. For example, she
bends the SOP
for combat too often, and is
very harsh
on her judicial punishments. Despite her flaws, I
trust
her to build HELIX into a strong detachment and maintain that standard with her pure devotion. So, I suppose my concensus is that she's a very eager combat medic, and
I can respect that
."
Cpl.
N
auyokas
"A grunt i've been speaking a lot with, they know their shit. They might be basic infantry but god damn they speak truth. I will watch out for them and i'm sure they'll do the same for me. Competent as hell too in the field."
-"Seeing as how Nauyokas wasn't a Pv2 yet and had shown combat excellency in the past three days in combat, I recommended him for a promotion. Perhaps I would've to Ackerman as well, but he wasn't on duty today."
-"Nauyokas is hungry for combat, which is good but can be bad. Think the main thing I learned today is he doesn't like people who burn theaters for no reason."
-"Nauyokas was promoted to LCpl. I think he deserves it, however he's spending a lot of time on the grass. He's great for assisting in hazing idiots like Winter when they decide to waste our time."
-"Cpl Nauyokas was promoted, he deserves it for sure, but he can be hard on some of the troops from what i've heard. However, he's competent, that's what matters."
-"Great for inspections of the troops. A reliable NCO, though tough, he is again quite competent."
LCpl.
Grus
enski
"An HCU who is surprisingly human, he isn't a cunt like other HCUs. Infact he showed a couple signs of fear, very interesting, he's also quite trustworthy and good in combat."
-"Still quite good at combat, the most reliable HCU so far. I've placed him in my fireteam multiple times because of his consistentcy."
-"Decided to bump him up, he's still the most reliable HCU i've seen yet. I will be keeping an eye on the others, though."
-"Now a LCpl, also in my mentorship, he was a close call with another HCU but Grusenski followed orders the best and was the sharpest of the bunch, but like I said, it was a close call."
-"Touched up on the guidelines of my mentorship, and he has began running drills and stuff, i'm pretty happy with his preformance so far."
LCpl.
I
sa
a
c
"After spending lots of time on base with him, I've placed him in my recon team multiple times and everytime he's proved very skillful. He's good with whatever weapon he's assigned to, and ontop of that he's sharp and follows orders swiftly. Thus, on his 4th mission, I decided to give him the promotion."
-"Still very reliable in field, I put him in my team multiple times and he's never let me down, good man."
-"Continues to be very effective, sharp, and smart. His consistency has netted him another commendation."
"Isaac had some complaints about being assigned to Kingston for his mentor, and I can see where he's coming from. However Kingston needs some experience and needs to learn how to train his men. Unfortunately, this doesn't seem to be going well. Isaac is up-and-coming, but he needs to learn how to lead. He cannot do this without a mentor, therefore Kingston needs to start training him.. and it seems like Kingston isn't."
Cpl.
Richard '
Navy'
Carter
"
An up-and-coming conscript. He showed great leadership potential before an operation, so when my lance corporals didn't show up I field-promoted him to a fireteam leader and he did extremely well. Aside from that, he's pretty competent all around, and quite a funny guy during training exercises, and daily routines on the base. I gave him a commendation but I don't believe it got far, unfortunately. That's too bad, because he's quite a good conscript!"
"Well, the commendation went through! Not just that, but he's shown
extensive potential and effort
since that point. I am quite pleased with his performances so far, he occasionally may make a mistake but he usually fixes it pretty quickly. Glad to have him as an
NCO
."
Pfc.
De
Mont
e
"A somewhat new guy who just got here, but in today's platoon exercises he followed orders and then some, he wasn't afraid of combat and followed me right into potential death wtih an HVT. What a reliable soldier, I thanked him personally after it and was going to give him a promotion, but he already had received one!"
'
XEO
' Marcel
XEO is really a symbol of GRID,
or maybe all the GRID's are just like that. He's sorta laid back like the CEO is. In any case, he's got a g
ood brain and understand how far in the shit we are.
Something very uncommon at this base.
I hope he can
push some projects forward to improve our small arms specifically.
I haven't seen him in combat at all, but if he's out there
i'll do my best to cover him
."
-"Marcel has built most of the last base, and this base, he's extremely good at it."
Cpt. '
D
irt
'
"
A tough on the inside man who seems to genuinely care about his men. He's not afraid to be strict, and he is very much competent. I respect that.
If only there were men like him on the field, we wouldn't have as much of a problem with casualties.
I'd follow him into combat any day
."
-"I've been speaking to the
grunts
a lot, especially in wake of yesterday, and all share the same mindset: they have nothing but
respect for you
. Some note your inexperience, however what's important to others and I is that you are a
good leader
.
That you are.
"
-"The captain has shown a lot of
skill
in his patrols. Unlike other patrol leaders, he usually leads squads or platoon sized elements and focuses on those two, assigning leaders to each. Rather than the traditional, more
shit style of the conscripts
, which is 'I'm sergeant and i'll lead this time, you lead that team corporal and heres the plan but we'll never remain fluid and communicate'. The fact is: when a squad leader has two fireteams with two fireteam leaders,
the whole unit cohesion rises greatly
as the fireteams can focus on orders and surroundings, while the squad leader has extremely high awareness of the AO and doesn't get tunnel vision. Now that - is a
good combat leader
."
Sgt.
Ross Fletcher
"Good Corporal, best corporal i've seen by far.
He's tough, but he's competent. That's just the way it should be. Ontop of that, he's very real and human, not like some of the other guys around here.
Carrys around a big ass RPG-7."
-"There isn't much to say, because my original statement was spot on and hasn't really wavered, or changed that much. He's doing a great job, and is still the best Corporal thus far. He's adapting to the mobile methods of our tactics, and that's great, because he'll give me the juristiction to control my fireteam the way I know they can gain the most effectiveness."
-"Apparently he goes by Rocket Man, I've seen this used once, by himself.. In any case, Richard Carter wanted to be Rockette Man or some crap, dunno how that works. Fletcher is now a Sergeant, i'd say he's pretty fit for the role, again nothing much to say here cause he's been consistent as hell."
Pfc.
Maxwe
ll Osei
"While i've yet to seen him in combat, he's a new recruit who just came in. I taught him everything and then some, and he was sharp throughout the entirety of it. I mean DEAD sharp, never seen a recruit like him. Good guy, gonna watch out for him, i'd love to have him in my fireteam, so I think. We'll see!"
-"Osei has shown great preformance in combat and on base, he's well disciplined and follows orders sharply and quickly. I've bumped him up a rank, I believe he's got quite the potential! He's quite up and coming so we'll see where he will be going."
Pv2.
Biggum
s
"I haven't spoken to him too much, he's your
good all around infantry grunt
. I haven't had enough time in combat, nor on base to form an opinion of him yet, however being a grunt and embracing it is good enough for me. We'll see in the future."
-"So Biggums is a very eccentric grunt. He's smart and knows to cover our flanks, check corners all that good stuff a grunt should know but doesn't actually do. However he's a bit too fast paced. A single mistake and before you know it he'd be the one crossing the river while half the platoon is left behind. He's got his place though, 100% a pointman kind of grunt, perfect for scouting mines and enemy positions. If he keeps up the same attitude and starts leading teams though, he's gonna get men killed from his action movie tactics. He speaks kinda weird, but that's alright. I trust him enough to have him watch my back, but he's still too fast paced. Keep running ahead and you will step into a landmine, remember, slow is smooth and smooth is fast."
-"Biggums saved my ass with the LT, and followed orders swiftly, I trust this man quite a bit."
Pv2.
Edwards
"A newly promoted private who has shown quite a standard combat ability. He's
extremely thoughtful
and we spoke a lot about why we're here, why we're fighting, and reflected on the previous mission. Interesting soldier. He'd like to speak to that Denizen, Beatrice, because he feels remorse for what we did, however, i'm certain a good soldier like him can find hope and continue fighting. He shows a little too many emotions and gets sidetracked though. Regardless, I'll watch out for him."
-"Edwards is Edwards, there's actually not a lot to say about this conscript. In general, there's a distaste for him among the veterans because he seeks authority too often apparently, I haven't seen him enough in combat to be certain, I noticed he followed SOP, but I can see where they're coming from. In particular they didn't like how he left men behind."
T/3
Aidan
Hill
s
"He's a funny GRID who we(Jessica and I) messed around with, Nauyokas came by and messed with him too.
He was really funny
, whether he intended to be or not.. Though it began to seem like he didn't understand our jokes, thankfully
Nauyokas managed to trip on nothing and eat some of Hill's paintcans
, and I chucked a chocolate bar towards him after to show that
I wasn't mad at him
. A little later Jessica and I caught him doimg some maintenance work on the vents, Nelson was kinda mad at him, I don't really know GRID shit so I couldn't care less. A vent open in the shower is just a bigger vent if you think about it, but it's
good to see that Hills is checking our base for it's condition
."
HCU '
Julie
t
'
"Juliet's got a pretty fucked up backstory, from what they have told me. That said, Juliet is by far the nicest, non-stupid, HCU i've ever seen and met. I haven't witnessed Juliet in combat, so I have nothing to say there, but they're nice to 'speak' to. They're an odd size, but it all adds up from their backstory. Sneaked in two on me though.."
-"Took a harpoon hit like a boss, then again, they are an HCU.."
-"Apparently burned down the theater under command of Kingston, can't exactly blame Juliet, Kingston needs to be responsible for his actions though, not just say 'redirect it to JURY."
02
Victor More
au
"A JURY unit who does their job and just their job, only. Huge
respect
to them, as they're
reliable
when called upon, they
do their job and don't ask questions
nor interfere with stuff not their business. And at doing their job, they do it extremely well. Moreau is very manipulative and can get answers out of all kinds of suspects. I couldn't ask for more. Also, surprisingly unique for only this unit, is that this unit actually
converses like a normal person
! They aren't constantly suspecting you of weird shit, or threatening you with blackmarks 24/7. Haven't witnessed them in combat, but I don't really expect them to be in combat."
T/1 T
akahash
i
"I keep mispronouncing his name and mispelling it, but whatever.
He's quite an active GRID
, and while I haven't seen him do as much construction work as the XEO, he's still very useful.
I think he's a taaaad bit too jumpy though
, GRID is GRID though, i'm not gonna hate on him for being not perfect at combat. Jumped up the ranks fast, but that doesn't mean much in GRID to be honest.
He does his part. I can respect that
.
Divisional Risterwald
"Not much to say on him,
I mean we talk and he's nice to speak with
. We can converse like normal people, without talking about blackmarks, codes, and other criminal crap. But aside from that he does
police stuff
while I do combat stuff. The men don't seem to love him, but they don't seem to hate him. He adminstered 2 blackmarks to me for blocking the camera, LT later asked me why I did it, I told him it was to cover for everyone else writing crap on JURY. I'd do it again, i'm willing to take the blow for the men if it's only me who takes a blow, why punish 10 men when you can only punish one? I'll take that any day.
These are the men I live by, and see die each day, they deserve some relief from the stress,
not to be blackmarked by something so petty.
I don't hate Divisional for it,
he's just doing his job, policing the base
. As am I, covering my men
."
-"Well, he removed the Blackmarks after I told him why I did it. He also shed some light on how he would've been ok with us messing around for fun, unlike some of the city-transfers he has a lot of outland-base experience. Interesting."
Pv2
Ackerm
a
n
"He might be basic HCU infantry but he's got some fair points about our leadership at SIDEWINDER. I will watch out for him and i'm sure he'll do the same for me. Pretty competent as hell too in the field."
Pv2.
Fox
"An HCU who has thus far proved to be very good in combat and on base. I've had many interactions with him in these scenarios, and next to none with just casual chatter, that said, he's a very useful asset. As with most HCU's, he is kinda slow in the head and doesn't snap to orders, but I can't blame him, drugs are drugs."
-"Fox is pretty up-and-coming, I need to see more before making a definite opinion of him, but thus far he's been following orders sorta alright in combat, once you tell him what to do, he'll get to it. But TELLING HIM is hard, because he's so drugged up and slow, sometimes it's just hard to get words into that brain of his."
-"Well, Fox isn't terrible, unlike other HCUs, he actually is useful outside of combat. Infact, It's quite odd, because he's more useful than other HCUs outside of combat, but less useful than some HCUs inside of combat. It's quite an interesting set of traits for your generic HCU. In any case, he's extremely helpful on the base. Still can be slow though, for example, he called Walkings 'Sir', oh well."
T/3
Gabuni
a
"Gabunia is a fresh HELIX from what I know and have seen, however he's sharp in combat, and efficient as a medic. Ontop of that, he's quite a generous unit unlike some of the other HELIX. He accepted a cook position and cooked up some really good food! Good guy, i'll watch out for him."
HELIX
Ryan
Winkle
r
"Winkler has been up and coming for a long time. He's
proved himself
to be a capable and solid HELIX unit time and time again. I have no complaints about this unit, only
praise
. He's done a
great job
for HELIX thus far. He follows orders, he tends to wounded, and he does so
sharply
. Good man."
Pvt.
Jace Yume
z
A new infantryman who understands how deep in the fucking shit we are, and how command in many ways has either been inadequate or just completely hung us out to dry. Haven't seen him in combat enough to see if I trust him completely, but I will watch over him.
-Not the sharpest in combat, it is what it is.
Pv2.
Kurowski
"Kurowski is pretty
up-and-coming
, he was shipped in about two weeks ago but has shown quite a lot of effort and potential. Unfortunately I haven't seen him on any of the recent missions, but it is what it is. I hope to see more of this soldier, since
in combat he's very efficient
."
SSgt.
Johna
tha
n Blac
k
He's a good leader,
he's smart and knows his tactics.
But he's
disconnected from his men, it's like he doesn't care about knowing them.
He just cares that he completes the operation. He
won't lose men for no reason
, but it really does seem like he's willing to sacrifice any amount to get to his objective. Instead of spending time with his men as someone like Fletcher or Harris would, he spends time with the DvL. Funny thing is, I bet the DvL feels the same way as him. This is why a lot of the guys around me don't really trust him in combat or in general.
However, I think his competency will pay off, I'd still follow him into combat,
albeit wary.
-Cooks up a
really nice fish & chips
, it was
delicious
. He seems to be
getting more support of the men, including mine
, and ontop of that,
he also is contemplating getting rid of his stupid hat. That's a plus in everyones book!
-Today
THE corporal
screwed up again,
and Black made sure she knew it, good man.
-So heres the deal with Black. He's competent, sometimes disconnected but he's been improving greatly on that,
most men like him now, including me
. He's also been spending a lot less time with the divisional, which also ties into how
more of us trust him
. At times he can make bad decisions, however unlike the
other staff sergeant
,
Black actually makes decisions
. The other staff sergeant isn't even fucking there to make any choices! What kind of leader is that? Anyways.. that said, the other day he recommended Kingston be promoted to Corporal. The captain, to our delight, shot this down. Now I don't know if Black was misinformed or what, but in a lot of our eyes it was Kingston's slow and incompetency which got tons wounded and overall failed the mission. He(kingston) didn't even check on the men after the operation. Black should think things through and seek to-date intel when he can, that said, I still will follow him into combat. He's slowly but surely gaining respect from us, it's just that act made us all lose a bit..
-Today MSgt. Black was trying to lead a shock attack on Lambda, we successfully hit 1 outpost and overran another, but when we got to the main outpost we were met with highly prepared rebels. I guess a scout got us or fletcher's team. In any case, we got hit pretty hard. When we RTB'd Black apologized for the patrol's failure. I was with Isaac and Nauyokas, and the three of us gained quite a bit of respect for the man from this action. Not many leaders have the common decency to accept their failures and try to make up for it.
-Well, Black got hit from the Brass and is now a LtCol. He gave me his M9 before leaving, but such is life. Seeya later Black.
'
C
EO
' Kowal
CEO is a
cool guy
, just like the
XEO
. They are laid back, however
understand the problems
surrounding the 24th Battalion. Also like the XEO, he's nice to talk to, however he is busy doing nothing quite often. I suppose that's quite funny. I haven't seen him in combat much because he isn't a grunt, however I have seen him in his APCs and he was able to provide fast, fire support."
-"Not very good in infantry combat.."
-"CEO needs to learn his place, he screwed up the formations today from his incompetence."
-"Yeah, he's good to talk to! Just not very good to fight alongside."
-"Well, the CEO has been a little better than before, but, I still can't say much on his competence. Outside of that, he's a pretty cool figure."
Pvt.
Alice Lacroix
Not to be confused with the other Lacroix, apparently Alice is(completely) unrelated to the other one. Apparently she's been in the company since SIDEWINDER, however I haven't seen her til today. Regardless, she's an advanced-spec Marksman, which is interesting because this was never charted. I haven't interacted with her much outside of combat, she seems to follow orders quickly enough, but I can't say she's extremely sharp or extremely dull. I just haven't seen enough from her. Sorta like early-Strauss, she can clutter the radio. Once I got my orders to her, she can carry them out well enough, and doesn't break discipline as often as early-Strauss. Well, we'll have to see where she goes..
Two Ex-Navy Heavy Conscript Units
"One of em are called
Fury.
Cool guys, they stick together. Spoke to em a bit. Pretty
chill and good to hang out with, refreshing,
but they listen to sand music. On the other hand, the sand music was
able to trick a deni into coming over,
which then I was able to apprehend. So they're
smart
, too.. I just don't like the
music
. Can't tell if they're funny or just stupid, though. I mean, most HCUs are usually thick headed from those stim drugs and shit. They carry around an annoying ass radio, though. Again, dunno to laugh or sigh from stupidity."
-"They are pretty good to talk to, though. Still drugged up and augmented..."
Ensign
Ozawa Oo
yod
o
"A Japanese naval officer who's really good looking and doesn't let anyone mess with her. She doesn't take shit, but doesn't give shit to people either. She's quite nice, from the interactions I've had with her I can say she's very intelligent and smart, with lots of wit."
Pfc.
'Theta'
"A HCU, but isn't a complete dickhead from what I've seen. He doesn't say much, says what's needed, which is usual of HCU behavior. Helpful in combat, even though somewhat reluctant. Good to have him."
T/1
Jones
"A HELIX who is good at HELIX'ing, but sort of meh in combat. He's smart and follows orders quickly though, which makes up for his lackluster combat ability."
FWO. B
ishop
"Honestly, he's helpful on missions and not much more. Not much to say about him, since he doesn't do much on the FOB aside from eat oxygen. That said, he's nice to talk to, just doesn't do much."
Pvt.
Ludwig
"Another nice infantry guy, who received
CSW training
as well. In combat, he is
sometimes distracted
but when I was able to get ahold of him he had
no problem following me in
. Spoke with him a bunch and he's got some
humanity left in him,
good man."
Sgt.
Blitz
"Quite the badass, shame I don't see him more often!"
Pvt.
Wright
Not too bad of a first recruit! Very attentive and listened to my instructions, however he was recruited at a pretty calm time, so I hope they don't get the wrong idea.
Pvt.
Parrish
- Came in with Pvt. Wright, again quite an attentive recruit and pretty sharp, he had apparently fired rifles beforehand. They were both fresh recruits who had no experience in the military, I'll keep an eye out for them both. Hopefully they, again, don't get the wrong picture of his place, because it was really calm and eeriely peaceful at the time.
Pvt.
Vasiliy
-
Close friend to Pavel
, from childhood or something, I do not know him so well.
Pavel trusts him
and therefore so do I!
He has no problem following my lead in things,
better for operations to run smoothly, a good infantryman!
Pvt.
Thompson
- Thompson is strange, he seems to mess around at serious times and be serious at messing around times. That said, he's still a grunt, so i'll cut him some slack.
-Thompson was pretty helpful in combat today, and he too doesn't like movies getting taken away for no reason.
Louis Bastille
- This guy, kinda like Judy, doesn't wear the facemask too often. He was somewhat
willing to play ball when Nick
was at the base, albeit unenthusiastic, however he genuinely seemed like an
all-around cool guy
. Haven't been able to witness what he does with GRID or in combat, so I can't say i'd let him watch my back when we're surrounded by zombies. Still,
I'd get him a beer
if he ever wanted one.
Pvt.
Eric Moors
-
Poor guy, I barely know him, only got his name after I gave him some medical aid before the HELIX grabbed him. I'm looking out for you, better watch out for that Gary guy. Hope you recover fast brother.
-Havent really seen you in awhile, though I do know you hate Gary's guts.
Three
Austr
alians
- Good guys, also were willing to
follow my lead with no objections
. They're polite and seem like good, willing grunts. One was wounded, I took care of him and I hope he'll recover soon.
-
Pvt. Barnes
stands out from them, he's pretty good all around, glad to have him with us!
Pvt.
Marv
in - A recruit who just transferred in, he seems to know his stuff, for sure. I'll watch over him, but I'm somewhat convinced he doesn't need my immediate help.
Pvt. Va
n Shan
- He's a grunt who follows orders fast and efficiently. Carries around a standard M16, he doesn't wear helmets for some reason. Haven't spoken to him much outside of combat, though I know he has a distaste for JURY and Kingston like some of the men here. Overall he's a good man, never let me down in combat.
-Hates Kingston for burning down the theater, I can understand how he feels.
Sgt.
Ha
r
ris
- I haven't talked to this guy a lot, but i've seen how he acts and he is definitely one of the better NCOs around here. I'm glad he's with us, he might even be the best i've seen yet. He's got my full commitment so far.
-Well, check that, cause I haven't really seen this guy in combat or at all! Sorta like that other staff sergeant.
Pvt. Ro
nal
ds - A grunt, but he followed orders well for what little time i've interacted with him.
-He can be kind of slow.
-Unfortuantely, in the same day, he drove a humvee into a friendly minefield, shit happens, find peace man.
Pvt. Roy
ce
- A grunt who seemed to be quite distracted or slow during PT, though he showed signs of improvement and he was actually quite smart in combat! He understood that since he didn't have an optic, he had no chance of scouting and kept his head down and hidden.
Pvt. McDerm
ott
- Female conscript who reported an incident of a conscript being wounded onbase, essentially allowing me to save Tretskov's life, great job.
Pvt. Ba
km
on - Keeps wanting to spar us, or just me. Anyways, i'll take him on today.
New recruits from
Cze
ch
and
1 other
- You guys will be fine as well! Perhaps Pavel will speak czech, I do not, sorry, and I was drunk.. I will keep an eye on you, I'm sure Eddy will too!
Pvt. 'A
meric
an/Ke
lly
'
- American who
hated the pizza
. Didn't get to see him much in any combat,
he would seem to be an alright man
. Some call him Kelly. I never caught his name.
-Heard you got deserviced, find peace man.
Sa
sha
something - A journalist or something?
Helps out a ton at the base, extremely useful
. I don't like it when
he comes on patrols though, another guy to watch out for and that means we have less cohesion.
It is what it is though.
Nice to have around.
-Got in a fight with private Nayoukas, near unacceptable in my book. Sorry, you had to go, this is no place for non-combatants.
Pvt.
Oliver Ja
mes - I see some potential in you! Keep it up and you'll survive, just stay sharp and stay safe. This place has a higher casualty rate than any other place in the damn country. He entered my training with:
Pvt. Henry - Uhhhh. You managed to follow orders at a rapid pace, but you are a bit odd, I'll still watch for you two though.
LCpl.
K
i
n
g
ston
- He's a good NCO, needs to toughen up but bottom line is he's
competent and good
. He's a nice leader, has my commitment as well.
-Unfortunately, he still seems a little too new on some things, he managed to
mix up the ROE
's today somehow, and Gary was saying something about a
failed patrol, but gary is gary
..
He also completely disregarded the input of a subordinate because the subordinate was "not an NCO", I've lost most of my respect for him.
This is not an aspect of a good leader
.
-Well, turns out rumors weren't just rumors, dunno where Kingston lost his way, he was on a good path and threw it all away it seems. We'll have to see where you go, oddball.
-Claims to be quite good at planning, not so good at fighting. I think you have a place, but the frontline may not be it, friend.
-
CEO
was on time, our marksman team was on time,
but where were you
? I'm afraid the men are losing faith.
-Kingston lead a seperate team today, while his team suffered two wounds, he did what had to be done quick and efficiently, I believe he's improving!
-He uh..
burned a theater down..
which was staffed by unarmed people, because it was selling alcohol? Because the owner of it looked like a girl? That's
terrible.
He
won't own up to it
and instead redirected everyone to JURY, Ironic.
-However, he did come up to speak to me about it privately, which is technically the professional thing to do, but grunts don't do professional, we do what's morally right, and that would be telling everyone face to face. I guess it's a difference of tradition and culture, or.. kingston is just kingston. Who knows. I guess it's a start, to taking responsibility, he just needs to do it face to face with the men if he wants respect from them. I taught him a few examples and some tricks, hopefully he can start improving again. Morale has been god awful and we really don't need him to damage it anymore than both the denizens, and he have already done. I think overall he understands his mistake. That's good.
-We had another mission today, I placed Kingston incharge of the more stagnant group, giving him machinegunners and basic riflemen while I took charge of the recon team, taking marksmen and a SAW. He was able to hold his ground and order his men to good cover, I believe i've come to a sort of a conclusion on this complicated leader. I believe he's not fit to lead platoons or squads, however if you give him a bunch of riflemen and tell him to hold a point, he will do so without question and make sure his men do, too. In other words, he doesn't make the plan, but he carries out orders without hesitation. I can say at this time, i'm glad to have him as a fireteam leader. Kingston is a good man to micromanage basic orders to infantry.
-Gotta give Kingston his credit, he gave me operational authority which allowed me to control the battlefield the way I wanted to, which would net the highest effectiveness and the lowest casualty rate, like I said, I believe he's a good team leader to carry out orders, just not make them. That's reliable if you look at the full picture.
02
B
rian Eber
hardt
- A JURY unit which, like
Waters
, is
extremely annoying
. They're constantly messing with other people's business, and
won't shut up
about their stupid rulebook in their pocket. The highest point of
incompetence
from this unit in particular comes from him
pulling us out during a firefight
to let us know that we've got to turn in our radios, or he'll blackmark us. What a bunch of crap. Recently on a mission, he started
talking and spewing bullshit
about some private firing off a shot, in the middle of a stealth operation, during combat! I hate bullshit, and I hate incompetency. He's a mixture of both, but atleast he's
active,
I suppose. Still yet to see him do anything but
annoy me
, and
annoy other grunts
. Nobody seems to like him, and he seems to have brought that onto himself.
Pvt. Sping
e
r - You have a brain! Use it! Stick with your team. I know you're new but what the fuck..
T/3. Zeal - New guy who just shipped in, GRID, not much to say, he's pretty friendly though. We'll have to see where he goes.
New connies coming from Germany and England - You'll be fine, I'll keep an eye out for you two.
'The Girth' - Big man, got his autograph because of a dare. Don't know where he got the nickname from, everyone thinks he's gay, though.
-I don't think he's gay though, he told Eddy he didn't like dudes because Eddy asked him out to the ball, I don't know if Eddy is gay or not. In any case, he's a pretty cool guy for what little talk we did.
Pvt. Sophia Taylor - Hope you find some peace in this world.
Cpl.
R
u
ssel
- The other competent Corporal, aside from Fletcher. He's not as active as Fletcher, so I can't tell who's better, but I know for sure he's better than those other two idiots.
-Check that, he was demoted for inactivity.
-And he's been on a watchlist for insubordination and refusal of orders.. Not very smart, either. He seems to have lost the respect of HELIX and other grunts, as well. Nowhere nearly as good as Fletcher.
Pvt.
Ludv
ik - Constantly annoying command to go on a patrol this, patrol that, just wait until he gets killed, everyone is sick of him.
-Apparently believes that burning down the theater is the right thing to do, reinforces the belief of him being an idiot.
Some dumb female Cpl./ '
Rhyss
' - You got the heavy unit killed, you've gotten conscripts killed before, come on. I don't trust you and will not follow you into combat, you are too incompetent and put everyone in that situation. That was your fault! Don't put the blame on the dead when you put us in there! Take some responsibility for your actions.
-Left an entire fireteam behind,
and didn't even notice. There were three of us and ontop of that people who were with her even heard us calling over the radio. How does one complete a patrol report if they don't even know who was on it? Luckily Sergeant Black wasn't gonna let it slide and made sure she understood to not do it again, or so I hope. Aside from that when there's no action, I had some time to speak with her and
unfortunately, she's pretty dry and boring
. One thing is for sure,
she trains recruits often.
If you ask me, that's precisely the definition of a POG. Not hating on POGs, just saying POGs shouldn't be leading patrols,
getting men killed.
If you were just
training recruits and managing base stuff
, I probably wouldn't hate you this much, sorry but combat failures are near unacceptable when the line is so thin between life and death.
-Stay out of the field,
POG
, and while you're at it,
try not to confuse the
grunts
around here with your 'signs', most of us dislike you as it is..
02
'Ga
r
y'
Wa
t
ers
- I'm really REALLY starting to hate this guy, he never plays fair in sims, never really talks to anyone, has pictures of KPA Communist Dictators in his office.
He's an alright guy, and good to talk to.
However, his actions seem to n
ot care about casualties and ontop of that he has burnt THREE fucking conscripts to this date,
one with very severe injuries, eric moors.
-
Gary wasn't so bad today,
I assisted him in
clearing a warehouse and detaining some people
.
His act reminded me that of a metrocop. Still doesn't explain how he's getting away with burning EOW's and Conscripts legally, but that is above my paygrade since he reports to the Divisional...
-Inactive, and nobody at all likes him, then again, who likes crappy JURY units?
Aggressive
HCU
- Don't like you very much,
disrespectful
to everyone.
Conscript
'Ziggler'
- Some german psychopath from Munich. Tells me how he doesn't like playing basketball, then tells me how he killed a bunch of conscripts before joining. What a fucking weirdo.
-he shot himself.
Relations(

Denizens

)-

Hated

|

Disliked

|Neu

tral

|

Acquaintence/

Trusted

|

Friend

|

Close

|
[REDACTED]
'Dickweed'
- I could get in trouble doing this, but in any case, it's
great to talk to you.
A refreshing perspective on things. It goes to show that there's still bits and pieces of
humanity
left around on this planet, a scenario alike the
WW1 Christmas Truce
is a dream I will strive to live in! Until then, i'll have to keep an eye on the ones around you.
McCormic
k
- A denizen who came by to
return Private Ronald's dogtags
, much appreciated.
-She came by again today to
return another fallen private's dogtags(S. Taylor)
, they were from a patrol earlier today by the Hotel. She said it's the
honorable
thing to do, much respect to her.
-I ran into her again during a patrol, we also ran into a 45th female and -------, she was giving dogtags again! I took them gratefully, however quickly, because shortly after there was a massive gunfight. Thankfully ------- managed to escape in time. An interesting person.
-Interestingly enough, the same day I was informed that she had signed up and joined, was the same day she dissapeared from the battlements. We believe she was kidnapped, I wonder how good of a soldier she would've been, after all, she seemed quite laid back, just handing over dogtags and stuff; mysterious.
Bo Chu
- A chinese restaurant owner who's establishment we stormed and searched him. Though he agreed to deliver noodles to us should we provide him with soem supplies and a car, therefore I suppose i'm happy with this guy. Cpl Nauyokas broke his windows, but we shrugged it off as a denizen sniper and he seemed to buy it, he was pretty angry about us pointing guns and stuff while he was closed, I think it was overall funny, I can understand why he might be mad. We'll be back for food.
Prisoner 05 '
Bu
ckethead'
"A prisoner who's been v
ery compliant and hard working
for the duration he spent in the work block. Infact, he was so consistent at one point he had about 19-27 bottles which he turned into me for a couch and a lamp. The interesting part of this individual was his
bucket
, he never was without it. Regardless of this, I never cared enough to take it off, outside of security measures atleast. I let him go along with the other prisoners when we moved out, haven't seen him since. I imagine a hard working man should be doing pretty well wherever he goes, but then again, you can never be sure. He could just be a manipulative serial killer."
'
Nick
'
- Guy who
came by to turn in his gun.
H
e did so and then offered to play basketball with us, he's different like the rest of them, he's got some humanity left in him.
Good guy. He's way too good at basketball, kept beating me everytime.. I can't even get past the guy and he's dunking over the front gate! Was willing to give me some tips as I wasn't really good at basketball.
Eileen
- Dunno why I trust you, just felt like the right thing to do. But i'll remember our plan. I hope you do too.
'
Oliver
' - Poor guy who isn't meant for this place, hope he finds peace somewhere. We let him go after he was found clean, just looked like a hungry guy. He said rude things on his way out but that's normal, I can tolerate that.
Relations(Factions)-

Junk

|

Disliked

|Neutral|

Liked

|

Trusted

|

Close

|
3/2
5th Conscript Infantry Divison'Red Diamond', 2nd Con. Rec. Regt. , 3rd Con. Bn. , Golf Co. , 2nd Platoon(Scout-Snipers)

- I carry a bit less gear, and there's far less training, but i'm totally going to get myself killed over here. Miss you guys, i'd say good luck, but I need it more than you do.
Bo Cho's Chinese Food -
Good, hearty and reliable chinese food. place is a neutral zone, I like their food much more than slice of italy, that's for sure. what a great establishment, kill some armed rebels and then eat some food!
-Very good food! Great, friendly guy!
GRID
Detachment of 24th Con. Bn. - You guys are really helpful so far, and all GRID's i've spoken to are good men. From the
CEO
down to his
men
. Of course, I don't see you guys too often on the frontline but your APC's have proven helpful, as have your repair work. Men like
A
id
en,
XEO Marcel
do serious work on repairs. People like
Louis
are entertaining to speak with. Still need the MP7 tuned up though, thing is so damn inaccurate.
Rogerson Movie Theater thing - Well, he seems to be neutral, it's just everytime people try to watch a movie everyone starts killing each other. Atleast he's trying. That movie really sucked, but I have faith in him showing better ones. He's very open minded!
-So uhh.. Kingston burned your theater down. ..I don't know what to say....
24/1
1st Conscript Infantry Divison, 1st Con. Inf. Regt. . 24th Con. Bn. , Alpha Co. , 1st Platoon(Infantry) - I'm going to die in this place.
-Well, atleast we have a good mix of air, arty, apc, and infantry. The term is 'integrated assault' but nobody uses it.. Still sucks here though.
-We're getting our asses handed to us by the denis.. We're getting wasted. Morale is shit.
-We're still getting fucking wasted! Each day I see atleast 10 men die. ATLEAST! Morale is nearly nonexistant. We cannot win any engagement. What the fuck is going on with this crap? 4 conscripts today couldn't even get issued DMRs!
-Lots of new recruits, always tell em different words with the same meaning: Stick with me, learn some tips from the guys around you, don't do anything stupid, and you'll do just fine.
-So,

1st Lieutenant Disney

was shipped in the other day, a transfer. This is good news to me, atleast. See,

there's a lack of concern for grunts the higher you go

, surprisingly, Disney was the opposite,

he seemed to show lots of concern

. Then

brings us to the combat leader problem

, frontline NCOs commonly

lack innovation, creativity and the ability to think, plan and coordinate teams rapidly as the situation changes

. Objectives need to be clearly stated so combat leaders can take that information and put it forward towards the overall success of the mission. Even the highest things like Briefings will give random information which don't really pertain to the mission, while it's good for the background information, what use it that info if it can't be applied to the operation at hand? The modern battlefield, especially with guerillas requires all of these to be checked, the battlefield is more dynamic than ever. Here's hoping LT Disney changes stuff.
-Well, life over here isn't so bad, SIDEWINDER was bad, but this isn't so bad! Low casualties, high success rate on all missions, hell there's even room for mistakes and on-the-field training. Good men, nice girl, yeah - not bad at all!
1st Conscript Infantry Divison, 1st Con. Inf. Regt. . 24th Con. Bn. , Charlie Co., 2nd Platoon(Armor) - Thank you so much for bringing those tanks over! Oorah!
HCU Detachment of the 24th Con. Bn. - You're all dumb and drugged up. A couple of you are funny like the ex-navy guys and a couple of you are actually smart like Juliet. But for the most part, you're all assholes and pigs to be sent onto the front. That's just my experience with you guys so far..
HELIX
Detachment of the 24th Con. Bn.- Interacting with HELIX has given me a
bad taste in my mouth
. Yet t
here are still some angels
. For example,
Anya
or whoever doesn't like talking or speaking with anyone period, nor is she ever on duty.
Winter
is a dick from what i've both seen and heard.
CMO and XMO
aren't really on duty ever, either. On the other hand,
Jones
has proven to be helpful while serving in my fireteam, he was still extremely distracted when getting shot at. I guess most HELIX's aren't meant for combat.
Ju
dy
is the exception here, she's one of the baddest, badass people on this base. She can be angel and save lives while kicking ass equally well.
Strauss
has
saved many men
after they came back bleeding like a stuck pig, but sorta like Jones she's not the best at combat.
JU
RY
Detachment of the 24th Con. Bn. - Some men are alright to speak with, like
Victor
I believe the name was. Some are even nice to speak with, such as the
Divis
ional
. And some are still alright to speak with, yet sadistic like
G
ary
. Overall, JURY is too disconnected with the base it's on. They have
proven useful in weeding out the shitheads
, but in that process they've driven a divide between them and the common grunt.
Lots of distrust has formed
in doing this. Most people watch their back being around JURY, it's never certain whether or not they're your friend.
-Wonder what JURY thinks about Kingston burning down the NZ.. I might ask them if I get a chance.
-Decided not to, JURY still sucks. Though I guess that's part of their job. I am somewhat fond of some of their units, like Moreau or Risterwald, but I can't say I trust them, or anything of that nature. In general units like Waters and Eberhardt have left a bit of a bitter taste in my mouth.
It

alian Pizza guys

-

Your pizza sucks,

but you're pretty

nice

for delivering it.
U

U - Being honest, you took away our world. Even if the fighting stops, what is left?
ask if u want me to add a faction or deni or connie or toilet
you can also request an update if you'd like.
Last edited: